By Lisa Flueckiger, Senior Contributing Reporter
RIO DE JANEIRO, BRAZIL – The widely missed bonde (tram) in Santa Teresa, suspended since 2011, will start first tests with passengers today (July 27th), on a 1.7km stretch of the final 10.5km between Largo da Carioca and Largo do Curvelo. However, Rio Governor Pezão has announced that the full service of the tram will only return in 2017.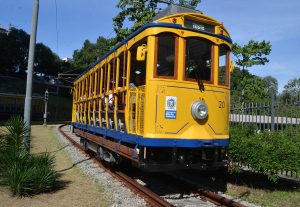 The new bonde service will run from Monday to Saturday between 11AM and 4PM with a maximum capacity of 32 passengers per car and will be for free. Two cars will run in twenty minute intervals on the stretch between Largo da Carioca and Largo do Curvelo, which includes running over the famous Lapa Arches.
However, according to Rio Governor Luiz Fernando Pezão it will take until 2017 for the bondinho to reach its final station 'Silvestre'. The 10.5km long route will be gradually opened with the next stretch of the bonde service between Rua Almirante Alexandrino and Largo dos Guimarães starting the pre-testing phase in October this year.
In the new tram, it will not be allowed to travel standing and it won't be possible to hang on on the outside steps of the car, as they will be retractable and only come out at the stations.
"We finished testing the tram and decided to start pre-operation on Monday (today), fulfilling the deadline to operate one of the sections by the end of July. In the trial period, in each car we have, besides the motorman, an agent who will be responsible for giving information to users at the time of departure, and during the journey will indicate the [touristic] points. We also have agents along the tracks, to educate people. People need to remember that it is not allowed to park [on the trails]," Secretary for Transport, Carlos Roberto Osorio, explained.
If demand is high, Osorio also revealed that the intervals between the bondes can be increased, as up to four trams can circulate on the new stretch.
The Santa Teresa bonde service was suspended in 2011 after an accident with six deaths and over fifty injured. The bonde was supposed to return to service until the World Cup in 2014, but construction on the new tracks was considerably delayed. The company in charge of the new tracks, Elmo-Azvi, was fined several times by the Rio government for the delays and discussions had started to replace them entirely. The entire project is already 49 percent above its initial costs.
The construction also means significant problems for the residents of the hilltop neighborhood, as large parts of the streets are dug up and circulation is difficult. Several shop and restaurant owners have complained about a reduction in visitors, and their loss in revenues is calculated at up to forty percent according to the Ame Santa entrepreneur association.