By Fiona Hurrell, Senior Contributing Reporter
RIO DE JANEIRO, BRAZIL – Typically the months of June and July spell the start of the slower winter tourist season for hotels and holiday rental companies in Rio. However in 2013, the city will host several FIFA Confederations Cup matches, as well as the 2013 World Youth Day, and accommodations are expected to be tight.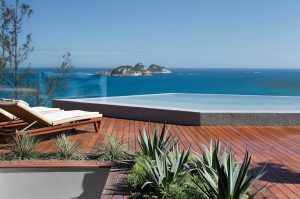 At WhereInRio, a luxury real estate agency in Rio, business is in full swing as their team prepares to offer their best service for the major events set to take place soon.
The FIFA Confederations Cup this June will be a test run for the FIFA 2014 World Cup games. Rio will host three key matches in June, starting with Italy facing Mexico on Sunday, June 16th, and ending with the tournament Finals match on Sunday, June 30th.
While the Confederations Cup has less competitive significance than the World Cup (June 12th to July 13th, 2014), the world will be watching to see how Brazil does in terms of hosting large events, and this year has seen record ticket sales.
In terms of luxury accommodation, WhereInRio prides itself on being a market leader, providing clients with a wide range of choices. Managing Director Frédéric Cockenpot explains, "Luxury hotels in Rio de Janeiro are not always easy to come by, so choosing to stay in a WhereInRio luxury rental property gives you the freedom to tailor your accommodation, length of stay and necessary facilities to suit your requirements."
He goes on to add, "Our collection of rental properties vary in size, price, location and style, ensuring that every visitor can find their perfect property."
Next on the calendar for Rio is the World Youth Day fast approaching on July 23rd to 28th. Rio can expect to receive an estimated two million visitors to its shores in celebration of the religious event that will include an appearance by the Pope himself.
From a service perspective Frédéric is aware of the different types of guests who will be visiting Rio as well as their different requirements. He explains "We expect that our one bedroom apartments will be popular with journalists and sports officials, whilst larger properties, such as those in Copacabana are the ideal choice for groups or families."
In general he adds, "July and August, which are considered to be winter months in Rio, is the height of summer in Europe so we take advantage of the school holidays and receive a lot of guests this way."
With so much going on in Rio this season the worry is that accommodation will be difficult to come by, and, as so often happens over Carnival, places get booked very quickly.
At WhereInRio, the focus on luxury and detail remains the same. Frédéric notes "What makes WhereInRio different to other rental agencies in Rio, and around the world, is the attention to detail put in by every member of our team for every one of our customers."
"Our rental property portfolio focuses solely on luxury properties that cater to the needs and styles of business travelers, long-term rentals, families, couples and individuals traveling to Rio to experience everything there is to offer!"
Unsurprisingly, interest in the properties is increasing as events draw nearer, yet this doesn't faze the team at WhereInRio who are always ready to welcome new guests. Frédéric admits, "Inquiries and bookings have been coming in since the start of the year, and we're looking forward to meeting everyone who comes to stay with us!"
* This is a paid Advertorial for WhereInRio.
Frédéric Michel Cockenpot
Managing Director
WhereInRio Luxury Rentals & Sales
Frederic@whereinrio.com
Tel: + 55 21 8266 8272
Skype: whereinrio
www.whereinrio.com