By Lisa Flueckiger, Contributing Reporter
RIO DE JANEIRO, BRAZIL – Real estate in Rio has become infamous for its high prices in recent years, continually sparking speculations about a bubble ready to burst. The price hikes are mainly led by Zona Sul (South Zone), but as increases in those areas seem to finally slow down, Zona Norte (North Zone) is starting to see double digit increases as well.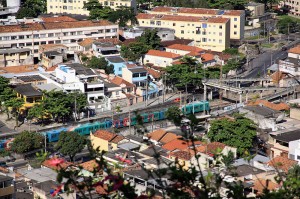 The city of Rio is commonly divided into four areas, defined by their geographical location and characteristics of the neighborhoods; the famous beach-area in Zona Sul, the city's workplace of Centro, a generally less affluent sprawl in Zona Norte, and the newer neighborhoods in Zona Oeste (West Zone, which includes Barra da Tijuca).
The area of Zona Norte starts in Tijuca and São Cristóvão spreading to Pavuna in the north and Vila Valqueire and Madureira in the west.
Of the 33 administrative regions in Rio de Janeiro, twelve lie in the Zona Norte, and according to Wikirio 36.5 percent of Rio's population lived in the north in 2011. Traditionally these areas have been some of the city's less expensive places to live, away from the postcard beaches and wealthy shopping districts in Zona Sul.
However a marked increase in property values and rental prices slowly began in 2010, according to data from the FIPE-ZAP index, and has recently picked up pace. Data shows rises of over sixteen percent in Tijuca, 24 percent in Irajá, almost twenty percent in Méier and even 54 percent in Penha over the last twelve months.
Although in 2013 so far, Campo Grande in the Zona Oeste (an hour past Barra da Tijuca) was the neighborhood that saw the highest increase in rent and purchase prices, Zona Norte's bairros (neighborhoods) were not far behind, as a report from Secovi Rio showed.
Rental prices in Tijuca scored the sixth largest growth in Rio with an increase of 9.1 percent in the first semester of 2013. Regarding purchase prices, the north did even better with Madureira recording the second highest growth in Rio with 12.1 percent.
"Besides the security provided by the UPPs, strong commerce, the samba schools and the distinctive feature of being a traditional neighborhood caused Madureira to stand out," the Secovi report explained.
Purchase prices in Tijuca grew by 7.1 percent and those in Méier by 5.9 percent. João Paulo Rio Tinto de Matos, president of Ademi-RJ, the business association of real estate firms, confirmed an increased interest in Tijuca.
"Tijuca always generated interest, because it is a nice neighborhood and good for families. But the violence made it seem like a dangerous place. People moved away from the neighborhood, and those from outside sniffed at thinking of it as a place to live. With the pacifications Tijuca was reborn."
A study from Agente Imóvel even reported that the highest increase in the first semester of 2013 in average square meter prices in Rio occurred in the Zona Norte, with square meter costs growing more than thirty percent in Bairro de Ramos and reporting growth numbers well over twenty percent for Irajá, Pavuna and Madureira.
Reasons for the new surge in the north can be found in infrastructure investment projects, such as planned new metro station Uruguai and increase in public transport opportunities, but can mostly be attributed due to the improvement in safety after the introductions of UPPs (Pacifying Police Units).
From the total of currently 33 UPP units in Rio, twenty are located in Zona Norte. The police pacification units have been introduced into Rio's favela communities to improve safety, drive drug traffickers out and pave the way for better social services and living conditions for residents.