By Georgia Grimond, Contributing Reporter
RIO DE JANEIRO, BRAZIL – As the seventeenth Pan-American Games drew to a close in Toronto on Sunday, July 26th, Brazil was celebrating finishing third in the medal tables, with 141 medals in total and some promising young stars having taken to the podium.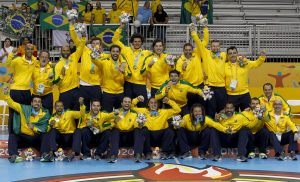 Canada, the host country, benefited from a home advantage, winning 217 medals compared to 119 at the last Pan-Am Games but came in second behind the United States (265 medals). Brazil took home 41 gold, 40 silver and 60 bronze medals, the same number in total as at the last games but with seven fewer golds.
According to Brazil's Olympic Committee, 52 percent of the country's 590 competing athletes reached the podium. In addition, fifty percent of them were aged between 15 and 25 years and 75 percent were taking part in their first Pan-Am Games.
Thiago Pereira – or Mr Pan as he is now known – a swimmer, became the greatest medal-winner in Pan-American history, scooping five in his fourth games bringing his total to 23. He picked up three golds, a silver and a bronze but was disqualified from the 400m medley for an error in the crawl and so missed out on another gold.
Ingrid Oliveira, a nineteen year old diver, became a social-media sensation over the games after she posted a picture of her on the diving board. It drew some negative and sexist attention which was said to have shaken the diver and caused her to score zero in one round. She came back, however, and won silver in the synchronized 10m platform.
There were also successes for the women's swimming team and in the table tennis competitions, but Brazil's performance in athletics (with only one gold) and in the football (bronze in the men's) was considered disappointing.
A cloud settled over the men's waterpolo team when reserve goal keeper, Thye Mattos, was sought by Canadian police for an alleged assault on a 22-year old girl. He was in Russia when the charges were brought against him. He has since returned to Brazil to avoid being extradited.
Many of Brazil's athletes hail from the military and its related sports programs, with 123 athletes linked to the Army, Navy or Air Force. Many of them were seen saluting the flag when they were on the podium.
The Games were also nicknamed the "Pan of the Selfie". Brazil's team was snapped at training, at home, in front of the mirror, in groups, with the mascot, celebrating and all around the Games.
The Parapan Games, also in Toronto, will begin on August 7th and run until 15th.