By Jay Forte, Contributing Reporter
RIO DE JANEIRO, BRAZIL – The Brazilian beach volleyball duo of Agatha and Bárbara beat the USA team late last night (Tuesday, August 16th), knocking out Kerri Walsh Jennings, who has earned three straight Gold medals with an unblemished record at the Summer Games, and her partner April Ross. Agatha and Bárbara won after two straight sets in 48 minutes of play.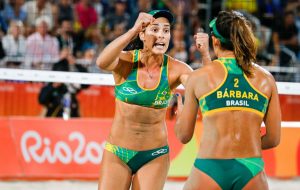 In the first set score was 22-20 after 25 minutes, and then Brazil dominated with 21-18 in the second set. "We are very happy and proud. We expected a super hard game and it really was. Despite the 2-0, they had not lowered their guard at any time. We knew we had to be very connected all the time against them. […] If it looked easy, good. But it was not," Bárbara told Globo Sport after the match.
The crowd on Copacabana beach was electric, the Brazil fans out-cheering the USA fans, and even offering boos during the USA team serves. Mike Smith, an American expatriate living in Rio described, "It was the first of the five events I've been to with a full capacity crowd and it was really exciting."
Yet he added, "I really don't understand why the Brazil crowd boos for the other team constantly, it seems really disrespectful. Maybe it is okay in football [soccer] at a huge stadium, but at all the Games I'm hearing the same thing, it's awkward and embarrassing really."
It is unclear how it may have affected the play on the court, but after Walsh Jennings told reporters, "We could squash that team, and I say that with all the respect in the world, but they outplayed us in every way."
The Brazilian team Agatha and Bárbara return to the court today at 23:59 against the German team of Laura Ludwig and Kira Walkenhorst, in the fight for gold.
It is the first time that a European double reaches the finals of the women's beach volleyball at the Olympic Games. The other Brazilian duo, Larissa and Talita, at 10PM face the American duo for the bronze medal.