By Robbie Blakeley, Senior Contributing Reporter
LONDON, ENGLAND – Brazil scraped through to the semi-finals of the 2012 Olympic Games after a 3-2 win over Honduras at St. James' park in Newcastle. They twice fell behind but a brace from Leandro Damião and a Neymar penalty were sufficient during a poor showing.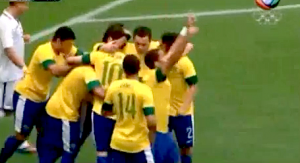 Honduras had two players sent off, the first in extremely harsh circumstances, but still managed to give Brazil their biggest fright of the tournament.
The opening exchanges looked as if Brazil would be handed an easy ride; Damião, Oscar and Neymar all went close before the Hondurans shocked them in the twelfth minute.
A fantastic shot from Matrtinez found the net after a misplaced pass from Thiago Silva. But soon Brazil were handed a huge boost.
Honduran right-back Crisanto was given two yellow cards in less than two minutes and dismissed. With their one man advantage, Damião leveled after some sloppy work in the Honduras defense.
But if the Brazilians thought they could run riot in the second half they were gravely mistaken when Espinoza's low, long-range effort found the bottom corner. Again Brazil's defense had brought about their own undoing; Juan had failed to sense danger and goalkeeper Gabriel took an age to react.
It didn't take Brazil long to equalize though, Neymar converting a spot-kick after Damião had been tripped. And the same two combined for the winner, Neymar playing the ball into the number nine, who turned his marker before firing home.
Brazil had made it through by the skin of their teeth. They will need far greater resolve in Tuesday's semi-final.
Read more (in Portuguese).
* The Rio Times Daily Updates feature is offered to help keep you up-to-date with important news as it happens.