BY Jay Forte, Contributing Reporter
RIO DE JANEIRO, BRAZIL – The Carioca Cricket Club (CCC) in Rio de Janeiro have just announced the format for the 2016 Granado National Cricket Championships, which will be taking place on the weekend of Saturday April 30th and Sunday May 1st. The weekend promises to be filled with sport and leisure as the tournament is held at the São Fernando Polo & Cricket Club near Itaguaí, and all are welcome.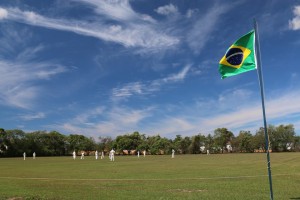 In terms of the sport, as last year, it will be a six-team tournament. Three concurrent cricket matches over two days. There will be two teams from São Paulo, one from Brasília, one from Minas Gerais, one from Rio (the CCC) and an All-Stars team from various states.
Tobias Hanbury, club chairman explains the "The All-Stars team will be made up of cricketers from several other states, including Parana, Espirito Santo and Manaus – some of these states have sent full teams to the Nationals in previous years, but this time they are sending their best players to unite into one formidable All-Stars team."
The biggest change from last year though is that the national championship will be played in one tournament, rather than a two-leg contest. Hanbury explains "In 2016, the title of National Champion will be decided by this tournament alone. In October, we will be hosting the South American Championships here in Rio, and there was not room in the calendar for a second Nationals Tournament as well."
All the sporting aside, the CCC prides itself on the social aspects of their club, and being open to all friends and family interested in a day out of the city for some R&R. The club announced "Our big Family Day is on Saturday 30th April. There will be lots of cricket, a tennis tournament, swimming, churrasco, live band and DJ, bonfire, and with drinks and food available to buy throughout the day. There will also be the famous Granado Spa for nails and massages."
As usual for their monthly inter-club matches there will be transport options from Praça General Osório, Ipanema to Itaguaí. For the national tournament the schedule will be Saturday April 30th, buses departing at 7AM (for players) or 10AM (for family and friends), and returning at 7:30 PM and 10:30 PM. On Sunday May 1st the bus departs at 7AM and returns at 5:30 PM.
Transport is provided free-of-charge. Lunch is R$40 per head (children free) and vegetarian options will be available. Vouchers will be on sale to buy drinks and snacks. Anyone interested should RSVP on their event page and stay up to date on new developments, and for more information on the CCC, visit the club's Facebook page.
* This is a Sponsored article for the Carioca Cricket Club.