By Charlotte Markham, Contributing Reporter
RIO DE JANEIRO, BRAZIL – The Carioca Cricket Club (CCC) in Rio de Janeiro will host the 4th Granado National Championships at their grounds this weekend at the São Fernando Polo and Cricket Club near Itaguaí, on Saturday April 30th and Sunday May 1st. The event will be a family affair promising plenty of cricket as well as activities for all the guests.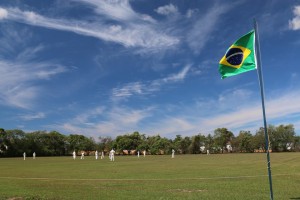 Tobias Hanbury, club chairman explains, "All preparations are in place for a fantastic event: the cricket pitches are mown, the marquee is built, the band is booked, the bonfire is ready, the churrasco is set up, the tennis tournament is arranged, the swimming pool is sparkling and the bar is ready."
During the championship the club provides free transport from Praça General Osório, Ipanema to Itaguaí. For the national tournament on Saturday April 30th, buses will depart at 7AM (for players) or 10AM (for family and friends), and return at 7:30 PM and 10:30 PM. On Sunday May 1st the bus departs at 7AM and returns at 5:30 PM.
Hanbury shared details on the sporting contest, "We have a record ninety cricketers playing this weekend, with six teams battling to become National Champions over two days and twelve matches: two teams from São Paulo, two CCC teams from Rio de Janeiro, plus teams from Minas Gerais and Distrito Federal," the weekend is guaranteed to show some world-class matches.
Lunch at the club is R$40 per head (children free) with vegetarian options available. Vouchers will be on sale to buy drinks and snacks. Anyone interested should RSVP on their Facebook event page and stay up to date on new developments. For more information and the most up-to-date news on the CCC, visit the club's Facebook page.
Not phased by the turn in the weather the last few days, the club is optimistic. Hanbury adds, "The weather forecast for Rio is mixed, but we are confident that the sell-out crowd of 160 people will have a great time in the Corridor of Suncertainty."
Later in the year, along with their monthly events the club is proud that it will also host the South American Cricket Championships, in October.
* This is a Sponsored article for the Carioca Cricket Club.