By Lise Alves, Senior Contributing Reporter
SÃO PAULO, BRAZIL – Organizers of the 2016 Rio Paralympic Games kicked off the 'one-year-to-go' mark with test competitions at one of the city's postcard locations, Lagoa Rodrigo de Freitas, on Monday, September 7th. Spectators received a taste of what they might see next year, with several Brazilian and international Paralympic athletes competing in events.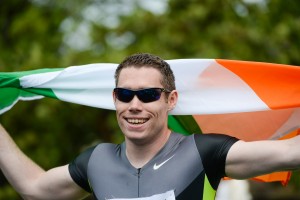 A highlight of the day was the 100-meter race won by Irish Paralympic Gold Medalist Jason Smyth. Smyth is considered the fastest para-athlete in the world, winning gold medals in the Beijing and London Paralympic Games. American athlete Richard Browne came in second.
"It was fantastic," said Smyth to reporters, "I am very pleased with the results, and especially with the crowd that came to watch us." Smyth added that he is certain that Rio de Janeiro will be more than prepared to host the Games.
A ceremony to mark the start of the countdown was held before the trial events, with the presence of Philip Craven, President of the International Paralympic Committee (IPC), Andrew Parson, President of the Brazilian Paralympic Committee (CPB), and Carlos Nuzman President of the Brazilian Olympic Committee (COB).
Also at hand were several para-athletes who competed in this year's Parapan Games in Toronto, Canada.
Online ticket orders for the 2016 events also started with prices ranking between R$10 and R$130. Approximately 3.3 million tickets will be made available for the 23 different modalities of Paralympic sports. The Paralympic Games will take place from September 7-18, 2016. Organizers expect more than 4350 para-athletes from 178 countries in next year's Games. The Rio 2016 Paralympics Games will host 528 events in the eleven days of competition.