By Robbie Blakeley, Senior Contributing Reporter
RIO DE JANEIRO, BRAZIL – FIFA, world football's governing body, has launched a warning to football fans across the globe not to buy tickets from unauthorized sources prior to the World Cup, due to kick-off in under three weeks. Scalping, or touts, are a problem at major sporting events across the globe and the World Cup, the most popular sporting contest on the planet, is no exception.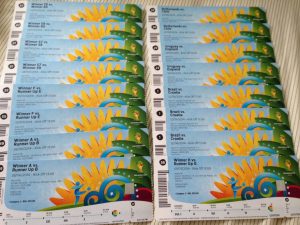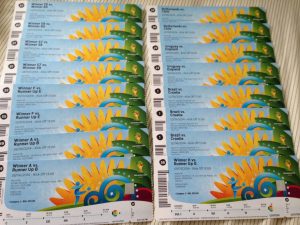 People who have previously bought tickets through the official channel – the FIFA website – are subsequently attempting to make huge profits by selling those tickets on to third parties. A quick log on to social media website Facebook and a query for tickets shows offers of thousands of dollars for tickets with a face value of US$100.
Meanwhile, those genuinely wanting to experience the tournament in Brazil are being left empty handed. The situation is becoming more critical as the competition nears and official tickets are close to sold out.
FIFA are now running a program with MATCH Enforcement, the division of Zurich-based firm MATCH Hospitality that monitors such fraud for FIFA to detect the sale of unauthorized tickets. The World Cup has been in huge demand, with tickets becoming increasingly difficult to come by.
FIFA's marketing director, Thierry Weil, said: "For FIFA it is key to protect fans from the risks of illegal sales of tickets. Over the last few weeks we have unfortunately seen more and more people leaving our ticket centers disappointed as they failed to collect their tickets purchased through unofficial websites."
FIFA again reiterated that the only way to buy official World Cup tickets is at www.fifa.com/ticketing. Tickets are in the final phase of sales, and are being sold on a first come first served basis, with a maximum of four tickets per buyer.
* The Rio Times Daily Updates feature is offered to help keep you up-to-date with important news as it happens.