By Robbie Blakeley, Senior Contributing Reporter
RIO DE JANEIRO, BRAZIL – Japan and Greece played out a goalless draw in the Arena das Dunas last night (June 19th) to leave their qualification hopes hanging by a thread. The stalemate means Colombia, with six points from two games, are through to the last sixteen, with Ivory Coast two points clear of their rivals.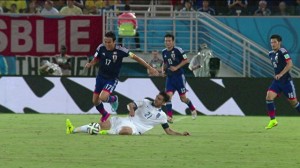 Both sides, having lost their opening games, have just one point from two games. Greece will take on Ivory Coast on Tuesday, while Japan meet the already qualified Colombia in the group deciders.
For Japan to progress, they must beat Colombia and hope Ivory Coast do not beat Greece. Conversely, the Greeks would need to defeat the Ivory Coast and pray for a draw or a Colombia victory.
Yesterday evening, Japan started the better side and created the clearer chances in the opening exchanges. Osaka hit narrowly over, and Honda, playing in the playmaking role, pushed and probed at the Greek defense.
Greece's game plan looked to be to absorb pressure and try to hit on the counter-attack. The first part they succeeded in doing, with the Japanese resorting to speculative efforts from range. Osaka and Honda both went close before Okubo headed over Japan's best chance of the half. Greece's task was made all the more difficult on 37 minutes when captain Kastouranis was dismissed for a second bookable offense.
Having been under pressure for most of the game, their task now looked a nigh-on impossibility. But in the closing minutes of the first half they pressed without managing to take the lead. In the second half Greece attempted to wind down the clock as much as possible. Meanwhile, Honda and Okubo went in search of the evasive goal.
Kagawa came on for Japan just before the hour mark to add more imagination to the midfield. Yet Honda continued to be their most dangerous outlet, without managing to unlock a disciplined Greek defensive unit.
* The Rio Times Daily Updates feature is offered to help keep you up-to-date with important news as it happens.