By Robbie Blakeley, Senior Contributing Reporter
LONDON, ENGLAND – Brazil lost 2-1 to Mexico in the final of the 2012 Olympic football (soccer) tournament, finishing runner-up for the third time. Peralta's 28 second strike shocked the Seleção, whose overconfidence seemed evident even after conceding such an early goal.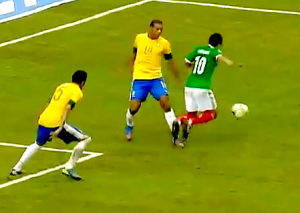 After beginning to threaten the Mexican goal Neymar, Oscar and leading scorer Leandro Damião all went close without managing to find the back of the net. Peralta struck again fifteen minutes from time to sink the South Americans, but Menezes' men refused to go down without a fight.
Hulk pulled one back in injury-time, leaving the Brazilians three minutes to take the match into extra-time. It looked a nigh-on impossible feat, but the muscular Porto forward almost made it reality.
Hulk's inswinging cross from the right found Oscar completely unmarked, five yards out. The new Chelsea acquisition somehow managed to head over the bar, rupturing Brazilian dreams in London and Rio.
Brazil's search for that elusive gold medal must wait until Rio 2016.
Read more (in Portuguese).
* The Rio Times Daily Updates feature is offered to help keep you up-to-date with important news as it happens.