By Jayme Monsanto, Senior Reporter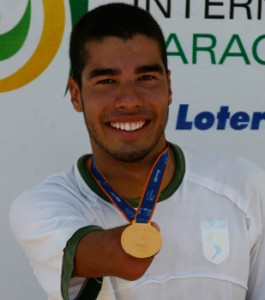 RIO DE JANEIRO – Last week saw Rio de Janeiro host the International Paralympic Committee (IPC) Swimming World Championships at the Parque Aquático Julio Delamare, in Barra da Tijuca, with the participation of over four hundred paralympic athletes from thirty one different countries.
After seven days of competition, Brazil ended the championship in 4th place. Russia were first with 52 medals (34 Gold, 12 Silver and 6 Bronze), followed by the Australians, with 55 medals (23 Gold, 18 Silver and 14 Bronze) and the USA, with 51 (20 Gold, 20 Silver and 11 Bronze). Brazil's swimmers claimed 44 medals between them (20 Gold, 10 Silver and 14 Bronze).
The highlight of the Brazilian campaign was once again Daniel Dias. The famous paralympic athlete participated in eleven different categories – eight solo and three relay races.
He won gold in all of the individual races, and silver in the three relays, breaking world records in every one of the eight solo categories he entered. As the best-known paralympic athlete in Brazil, in the 2008 Beijing Paralympic Games he set a new paralympic record by winning nine medals in the competition. Recently he was awarded the 2009 Laureus World Sportsperson of the Year with a Disability Award.
Dias' last race was on Saturday: the 200 meters freestyle. He finished with a 2m 29s 85 time, setting yet another new record. "The championship was fantastic in every single aspect. Brazil did a very good job. I'm very tired after this last race, but after seven days of competition swimming every day, it couldn't be any other way. Even though I'm tired, I'm happy with my time and the new record," he said, after claiming his eighth medal.
But Dias wasn't alone in winning every medal he disputed and breaking world record after world record. Brazil had yet another key athlete in the campaign: André Brasil. Just as Daniel Dias did, he also finished the championship with a one hundred percent record in the individual races. Entering seven in total, André took seven golds, breaking world records in every one of them.
Andrew Parsons, President of the Brazilian Paralympic Committee (CPB) and member of the IPC Executive Committee said he believes that the Swimming Championship was an excellent preview of what can be expected of the 2016 Rio Paralympic Games. "It is very satisfying having the proof that we can host a world class event like that a few weeks after Rio being chosen to host the 2016 Olympic and Paralympic Games. It was an excellent first step towards 2016."