By Lisa Flueckiger, Senior Contributing Reporter
RIO DE JANEIRO, BRAZIL – With almost exactly one year to go until the 2016 Olympic Games start in Rio de Janeiro on August 5, 2016, several disciplines begin to hold test events in the city to check out the sporting venues. The series of events starts this weekend with the triathlon and paratriathlon competitions at Copacabana beach.
The first bunch of athletes to get a taste of Rio de Janeiro in August will be the 210 sportsmen and women competing at the paratriathlon world competition on August 1st starting at 9AM and the triathlon qualifiers for the Olympic Games on August 2nd. The triathlon start at 9AM with the women's race and is followed at 12:30 PM by the men's race.
Both competitions start at the Copacabana Fort with swimming. Next is biking, which takes athletes along the orla (beach side road), then up Rua Djalma Ulrich until the Lagoa and back through Corte de Cantagalo on Avenida Henrique Dodsworth and Miguel Lemos back to the beach and further along the orla until Rua Santa Clara. At last, athletes run along the beach side between the Forte and Rua Santa Clara.
Today (July 31st), athletes can already be watched to be familiarizing with the competition venues. Both events on Saturday and Sunday are free of charge to the public. As Avenida Atlantica and several side streets are closed off for traffic, spectators are advised to come by public transport.
The next test event to follow after the triathlon is a 2km rowing competition at the Lagoa Rodrigo de Freitas. The World Rowing Junior Championships will take place from August 5-9th and several boats training for the race can be already watched at the Lagoa this weekend.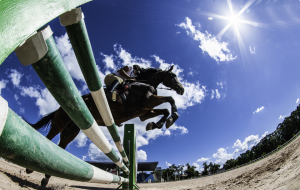 Tickets for the qualifiers of the event are already available for purchase here and cost between R$10 (half-price) and R$20 (full price). Tickets for the semifinals and finals on Saturday, August 8th and Sunday, August 9th are currently not available. Competitions start every day at 8:30 AM.
Almost at the same time the international Horse Trials will take place at the Olympic Equestrian Center in Deodoro from August 6-9th. The event in the 'Eventing' category will show athletes compete in dressage, cross country and jumping, the 'equestrian thriathlon', as all three Olympic disciplines are combined to determine who is the best overall rider.
The dressage competition will take place on August 7th, followed by cross country on August 8th and jumping on August 9th.
In the latter part of August, Rio de Janeiro will also receive a sailing competition (August 15-22nd), road cycling on August 16th and marathon swimming on August 22nd and August 23rd. In September, the city hosts the beach volleyball competition, Canoe sprint, as well as an archery challenge.