By Nathan M. Walters, Senior Contributing Reporter
RIO DE JANEIRO, BRAZIL – Anderson "The Spider" Silva, the Brazilian Mixed Martial Arts (MMA) superstar, and Chael Sonnen, the American who fought five tough rounds with Silva two years past, will meet tonight in Las Vegas' MGM Grand Garden for a highly anticipated rematch at UFC 148.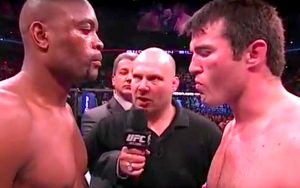 Silva, the reigning middleweight champion, will defend his title against the stony-faced Sonnen in the city known for high profile bouts.
There is no love lost between the two fighters, as was seen during yesterday's weigh-ins for the fight.  In the traditional pre-fight stare-down, Silva crowded into Sonnen with his chest before slinging his shoulder into his opponent's chin.  
What could have been an improtu prequel to tonight's battle was quickly diffused by UFC President Dana White.
Silva has defended his hard-earned a reputation as the best UFC fighter in the world, he maintains an undefeated UFC record.  In the 2010 match at UFC 117, Sonnen looked convincing, delivering five rounds of solid fighting before getting caught in one of Silva's triangle choke holds, forcing his submission.
Since that time Sonnen has engaged in serious trash-talking.  Silva has grown tired of the talk, agreeing to the fight in response to some of the more sensitive insults Sonnen has levied.  During a recent UFC 148 conference call, the Brazilian champion made his intentions clear: "What I'm going to do inside the Octagon is something that's going to change the image of the sport. I'm going to make sure every one of his teeth is broken, his arms are broken, his legs are broken."
For UFC fans in Brazil it will be a late night as the event starts at 11PM (7PM Pacific Time) with a series of preliminary fights. The UFC organization is calling the Silva vs Sonnen rematch the biggest fight in its history, and certainly many fans agree.