By Jayme Monsanto, Senior Reporter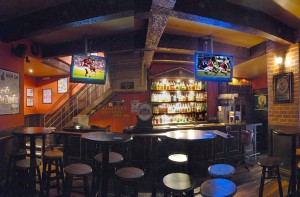 RIO DE JANEIRO – In a country renowned for its love of futebol, it is not always easy to find a place to watch any sport other than Brazilian soccer. If the sport you want to watch is American Football, things get even harder. With less than two months before the NFL Playoffs start (January 9) and with the Super Bowl closer everyday (February 7th), it's important to understand the options.
Only two channels broadcast NFL matches here in Brazil: ESPN and Bandsports. The former only shows Sunday and Monday Night Football, while the latter shows only one of the Sunday afternoon matches (4pm Rio time). The Bandsports website does not have a schedule of all the NFL games they will be showing throughout the season. They choose the matches week by week, based on their relevance to the season's context. With a two or three days notice, they update their website saying what they will be showing.
If you don't have cable TV in the place you're staying in Brazil, there are some bars in Rio that are real hubs for Gringoes looking for somewhere to watch NFL matches. Most of these are in Ipanema, and three of them are located in the surroundings of Praça General Osório:
Shenanigans Irish Pub & Sports: This lively Irish pub follows the philosophy "There are no strangers here… Only friends who haven't met", and is one of the best places in Rio to have a pint of Guinness and watch NFL matches. On their website and Twitter account you can find a listing of the games they show. The pub is located on 112A Rua Visconde de Pirajá in Ipanema, and their telephone number is 2267-5860.
The Irish Pub – Just across the road from Shenanigans is The Irish Pub. Smaller and with a cozier atmosphere than the former, it is just the place for those who prefer a lower-key venue to watch sports. As they don't have an active website, be sure to call ahead for a games schedule. Their address is 14 Rua Jangadeiros in Ipanema and their telephone number is 2513-3044.
Banana Jack – Next door to The Irish Pub is Banana Jack, a jungle-themed restaurant and bar. It boasts five LCD TVs and a sixty-inch big screen showing the biggest national and international live sports events. They focus on American football and baseball, but you can also find European soccer, tennis, volleyball and F1. Their website has a very helpful live games schedule. The address is 6 Rua Jangadeiros in Ipanema and their telephone number is 2521-9055.
If that wasn't enough, there is still one remaining option in Ipanema:
Lord Jim Pub: The oldest British pub in Rio, founded thirty years ago, Lord Jim shows mostly European Soccer and Rugby, but also some American football. You can check their live games schedule in the events section of their website. The address is 44 Rua Paul Redfern in Ipanema and their telephone number is 2249-4881.
If you are staying in Copacabana, a good choice is:
Mud Bug Sports Bar – With a huge variety of beers from all over the world, Mud Bug is a great option for those staying or living in Copacabana. The only problem is that their website does not have a live games schedule, so be sure to call ahead. Mud Bug has two branches, both in Copacabana: 16 Rua Rodolfo Dantas (telephone number 2543-5052), and 55 Rua Paula Freitas (telephone number 2235-6847).