By Jayme Monsanto, Senior Reporter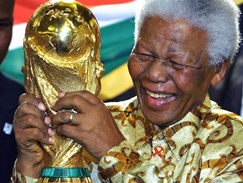 RIO DE JANEIRO – Friday, December 4th, the FIFA Executive Committee will meet in Cape Town, South Africa to draw the team groups for the FIFA World Cup 2010. As the Qualifying for the competition has now been concluded, 32 nations will participate from the 204 aspiring countries.
The qualified teams will be divided into groups of four for the first group round with the top two teams from each one advancing to the knockout stages: Second Round, Quarter-finals, Semi-finals and ultimately the Final.
The Group Draw will take into account geographical and tactical factors in order to avoid where possible countries from the same continent and top-ranked teams facing each other in the early rounds.
Also this year the FIFA Committee have another unusual factor to consider: for the first time North and South Korea will be contesting the same World Cup, and it would be wise to prevent a direct match between them in the early stages. The official criteria will, however, not be announced until December 2, two days before the draw.
If FIFA uses the same method they have been using since 1994 the 32 countries will be divided between 4 pots for the draw. Pot 1 will comprise the seven top ranked teams plus the host country (South Africa). Each of these eight teams will seed their groups, named Group A to H, with South Africa seeding group A so that it plays the opening match of the World Cup.
Pot 2 will have the "rest" of Europe with most of the seed teams being from the old continent. Pot 3 will gather the Asian, North and Central American and Oceanian teams and finally pot 4 will have the "rest" of Africa and South America (since Brazil, Argentina and South Africa will be in Pot 1). Each Pot will have eight nations, and each one of these will be placed in a different group.
The Group Draw will happen on Friday at 3PM Brasilia Time and will be broadcast live to no fewer than two hundred countries worldwide. The ceremony itself will last approximately two hours, with various music and dance performances showing the world a small taste of South African culture. Among the attractions are a performance by the Grammy Award-winning Soweto Gospel Choir, Johnny Clegg, one of the biggest names in South African music known for his fight against the Apartheid regime, and Angélique Kidjo, a singer and songwriter from Benin.