By Stephanie Foden, Contributing Reporter
RIO DE JANEIRO, BRAZIL – FIFA has received more than 4.5 million ticket orders for the 2014 World Cup, the football (soccer) authority announced, just one week before the first phase of sales ends. Out of the 4.5 million requests, 77 percent (3.4 million) of the requests were made in Brazil, followed by Argentina (223,686) and the United States (175,122).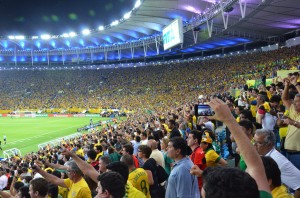 The number is higher than the total seating capacity of the twelve host stadiums, which is around 3.3 million. The demand is highest for the opener in São Paulo, the final in Rio and for all Seleção matches.
After the expiration of the order period next Thursday, October 10th, there will be a lottery to determine who can buy the tickets and how many can be purchased per person.
"This impressive total so far underlines the extraordinary level of interest in this 20th FIFA World Cup being played next year in the country of the five-time world champions," said Thierry Weil, FIFA Marketing Director, in a press release.
"However, football fans who apply by next Thursday have as good a chance of obtaining tickets as those who have already applied, as all applications made from the beginning to the end of the sales window are collected together and drawn on a lottery basis when the number of requests exceeds the tickets available."
Prices for Brazilians range from R$30 to R$1,1980, depending on seats and games. Leftover tickets will go on sale between November 5th and November 28th on a first-come, first-served basis. A second phase will start on December 8th after the World Cup draw determines where and when each team will play. The last chance to buy tickets is between April 15th and July 13th. Ticket requests can be made on FIFA's website.
Read more (in Portuguese).
* The Rio Times Daily Updates feature is offered to help keep you up-to-date with important news as it happens.