By Robbie Blakeley, Senior Contributing Reporter
RIO DE JANEIRO, BRAZIL – The Seleção (Brazilian national team) thrashed Spain 3-0 at the Maracanã to win the 2013 FIFA Confederations Cup. It was the Seleção's third successive Confederations Cup title and eases the pressure on coach Luiz Felipe Scolari going into next year's World Cup.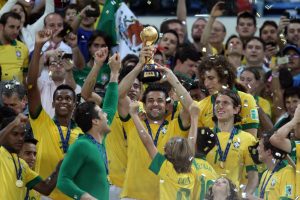 Two goals from Fred and another by Neymar gave the Brazilians the crown. They ended Spain's 29 game unbeaten run in the process.
It was an excellent team performance rather than an individual effort from a handful of players. If Brazil play like this next year they will have a strong chance of lifting a sixth World Cup title.
The hosts made the perfect start, opening the scoring in the second minute. Hulk sent in a cross from the right towards Fred and Neymar.
Fred hit the deck under pressure. But instead of lose the chance the ball fell close to the number nine after hitting Alvaro Arbeloa on the arm.
With all the instincts of a true striker Fred stabbed the ball past Iker Casillas. The Maracanã, and its 78,000 fans, went wild.
Spain had chances to equalize, their greatest opportunity coming when Pedro found himself one-on-one with Júlio César. The striker slotted the ball past the goalkeeper, only for David Luiz to heroically clear the ball off the line.
A minute before the interval Neymar doubled Brazil's lead. He combined with Oscar before unleashing a left footed drive which flew past Casillas at his near post.
Two minutes into the second half Fred put the Brazilians out of sight. Hulk's pass found the forward who subsequently found the far corner to score his fifth goal of the tournament.
Spain's misery was confounded when Sergio Ramos missed a penalty after Marcelo clipped Jesus Navas inside the penalty area and Gerard Pique was dismissed for a professional foul on Neymar. It was the night of the returning champions.
Read more (in Portuguese).
* The Rio Times Daily Updates feature is offered to help keep you up-to-date with important news as it happens.