By Robbie Blakeley, Senior Contributing Reporter
RIO DE JANEIRO, BRAZIL – The southern city of Curitiba could lose the opportunity to host FIFA World Cup games if building work does not make significant progress, FIFA claimed yesterday. The Arena da Baixada, usually home to club side Atlético-PR, is drastically behind schedule having missed a FIFA imposed deadline of December 31st.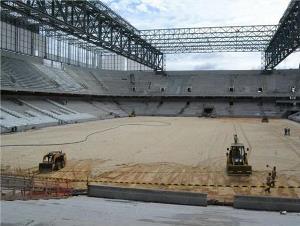 The stadium is set to host four matches during the World Cup in June and July. Australia versus Spain, Honduras versus Ecuador, Iran versus Nigeria and Algeria versus Russia are all scheduled to be held at the Baixada.
Following an inspection earlier this week FIFA gave city officials a deadline of February 18th to confirm whether or not the stadium would be ready. If this next deadline is missed the city faces expulsion from the FIFA World Cup.
"Let's be honest. We do not like the current state of the stadium [Arena da Baixada]. It is not only delayed, it is way behind schedule," said Jerôme Valcke, FIFA general secretary.
The stadium is estimated to be ninety complete. The Arena is not being built from scratch and is fact only being refurbished following its opening in 1999.
Meanwhile the Arena Itaquerão in São Paulo, which is due to host the opening match and ceremony, has been given a completion deadline of April 21st. The opening World Cup game will be Brazil versus Croatia on June 12th.
Read more (in Portuguese).
* The Rio Times Daily Update is a feature offered to help keep you up-to-date with major news as it happens.