By Robbie Blakeley, Senior Contributing Reporter
RIO DE JANEIRO, BRAZIL – Over 200,000 World Cup tickets were sold in the first five hours after FIFA reopened sales yesterday. The news means that more than two-thirds of matches for the June and July tournament are now sold out.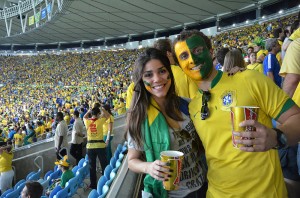 As to be expected, every tickets for host national Brazil's matches are gone. All quarter-final matches will also have a full house, whilst the third-placed game, usually a low-key affair, also has no tickets remaining.
Tickets are being sold on a first-come, first-served basis as demand remains high for the tournament. The exact number of tickets sold, according to FIFA, is 203,330.
Four games were not on offer yesterday – the opening match in São Paulo, the final at the Maracanã Stadium in Rio, and the two semi-finals, to be played in São Paulo and Belo Horizonte. Again, Brazil outweighed requests fro other countries by an enormous margin.
FIFA reports that 143,805ticket sales came from the host nation. The U.S. were second with 16,059, while Australia (5,357), Colombia (4,574) and Argentina (3,800) made up the remainder of the top five.
Together with the 2.3 million tickets sold prior to this phase, latest figures bring total sales to over 2.5 million. Matches for England, Germany and the U.S. also sold out yesterday, according to the FIFA website.
Tickets will remain on sale until April 1st. They can be bought at www.fifa.com/ticketing.
All matches will be available during the last minute sales phase, which commences on April 15th. No tickets are available other than through the FIFA website.
Read more about the World Cup.
* The Rio Times Daily Updates feature is offered to help keep you up-to-date with important news as it happens.