By Robbie Blakeley, Senior Contributing Reporter
RIO DE JANEIRO, BRAZIL – The FIFA World Cup "Fan Fest" has been cancelled in the Northeastern city of Recife due to safety concerns over protests that may be held in the area during the tournament. FIFA Fan Fest involves the erection of big screens in prominent locations, allowing fans to watch games together in public places, but it has been decreed risks of violence are too great for the Pernamuco state capital.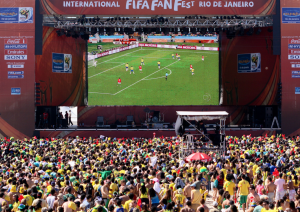 According to local authorities, a repeat of the scenes that marred the 2013 Confederations Cup are a serious possibility and cancelling the event was a necessary step in securing public safety.
The decision is being treated as final, meaning the Recife city government could potentially miss out on millions of reais in FIFA World Cup revenue with no spot of congregation for football fans.
The controversial decision to deny the inhabitants of the city a public location to watch the World Cup could be challenged by FIFA. Recife was a host during the Confederations Cup and arguably has an obligatory responsibility to host a FIFA Fan Fest event for the duration of the tournament.
According to lawyers representing the city's interest, governors are not worried. In a statement it was claimed "there only exists the intention to host a FIFA Fan Fest, but failure to do so will not result in a fine or punishment."
Recife is set to host five game during the World Cup. Group games to be held at the Arena Pernambuco are Croatia versus Mexico, Ivory Coast versus Japan, Italy versus Costa Rica and the USA versus Germany, before a second round tie on June 29th.
Read more (in Portuguese).
* The Rio Times Daily Updates feature is offered to help keep you up-to-date with important news as it happens.