By Aaron Smith, Contributing Reporter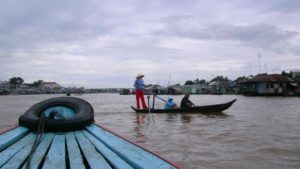 VIETNAM – "Good morning Vietnam!" I called out from the balcony of our five-dollar room in Chau Doc, as the tropical sun rose out of the rice paddies. We had floated down the Mekong River by boat from Cambodia into the Mekong Delta, the food bowl of the region.
At this time of year it's rainy season. We putted downstream past a silted river that in a few months would be green fields, bamboo houses on stilts and cud-chewing water buffalo stranded on grass.
We passed teenagers up to their necks fishing, and junks, the Asian fishing boats, where families were going about their washing, cooking and cleaning.
We visited a community of fish farmers, who dwelled above cages of fish that made the river boil with a handful of feed dropped through a hatch. We also ventured upon a small community of Cham Muslim families who fringed the riverbank, surviving by selling hand-woven fabrics.
Traveling six hours north by bus to a sprawling metropolis was a different world. Although officially known as Ho Chi Minh City, to the local Saigonese it will always be Saigon. With swirling scents, sights and sounds, Saigon seduced us from the start. Considered the country's culinary king, from contemporary to simple street fare, Saigon's food never failed to excite.
With spring rolls wrapped in rice paper, snails with minced pork, green papaya salads, tapioca, glass jelly with coconut milk cocktails, this town has got it all. Not to mention the more exotic for the gastronomically adventurous, such as deep-fried locusts and mouse spring rolls.
Jumping in a cyclo, a three-wheel pedaler with a seat on the front, we put our lives in the hands of our driver as he contended small gaps in traffic that bombarded us from every direction. Thousands of motor bikes, buses, trucks and taxis beeped, swerved and belched out fumes.
We took in the sights, from the French-influenced Notre Dame Cathedral and Main Post Office, Le Loi Street with high-end department-stores, to the ancient Chinese pagodas and temples, ending at Ben Thanh Market.
We submerged ourselves into the hustle and bustle. Up for sale were fake Rolexes, designer labels and Zippo lighters with 'original' GI engravings such as "Sold the farm, went to Nam". We even found a fruit vendor selling the Brazilians fruits acerola and fruta do conde, which gave Vivi a taste of home.
It was not till until political propaganda booming out of speakers in the streets that I remembered Vietnam was still officially a communist country, where despite years of US sanctions, capitalism was alive and well. Changing just a hundred Real into the local currency made us millionaires, and a fist full of the local currency, Dong, meant a whole lot of fun.
Senhor and Senhora Smith are from different worlds; he, Aaron Smith, an Australian travel writer, still idolizes his childhood idol, Indiana Jones, and she, Viviane Silva, is a sassy Carioca 'Sex in the City' girl. They have decided to embark upon a trans-continental four-month honeymoon BEFORE they get married, from Bogota to New York, the Far East and Australia by bus, boat and donkey. Follow them along the Gringo Trail – it's an epic Clash of the Titans journey to (hopefully) marital bliss at the end of the road.

For more info on Aaron's writing check out: www.jetsetvagabond.com
To read Viviane's blog go to: www.varaujo.wordpress.com