By Fiona Hurrell, Contributing Reporter
RIO DE JANEIRO, BRAZIL – Without a doubt, one of Rio's most attractive features are its world renowned beaches, presenting a culture that remains as popular with the local residents as it is with the thousands of travelers who frequent the city each year.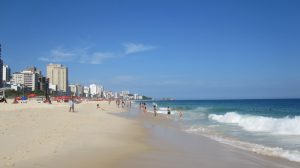 Ipanema and Leblon Beach
Ipanema and Leblon form one long beach, divided and defined by postos (posts) which serve to mark distance as well identify the varying themes and crowds of each particular area.
In short, Posto 8 is the stretch nearest to the Praça General Osório metro stop in Ipanema, and draws the most beach-goers on their way in from the outer neighborhoods, creating a more eclectic mix. It is also closest to Arpoador, meaning good surfing, or surf watching.
Posto 9 is popular amongst the young and beautiful with equally enviable tans and figures, armed with skate boards and tattoos. The area between Posto 9 and Posto 8 is known as the gay and lesbian spot, clearly marked by the rainbow flags.
Posto 10 is where the sports enthusiasts meet, due to the multitude of nets and greater space for soccer and volley ball, and also tends to attract a younger crowd. Posto 11 and 12 are known as the 'yummy mummy' beach since it seems to be especially popular with affluent mothers and their offspring.
Copacabana and Leme Beach
The huge beach of Copacabana is not quite as defined, however certain 'postos' of this beach usually attract various crowds. The most noticeable feature here is the renovations of the beach kiosks into full-service outdoor restaurants with underground kitchens.
The beginning of Copacabana, next to the Forte de Copacabana, is known as the fishermen's community beach where fresh fish is sold every morning. Near Posto 5 is where the infamous Club Help used to be, but the crowd there has moved on.Posto 2 attracts an alternative life-style crowd, including an area known as the gay and transvestite section.
Unlike Ipanema or Copacabana, the smaller Leme has no specific areas where certain types frequent. In this sense it is perhaps the most laid back of the four beaches with a rich mixing pot of bathers. Unfortunately, Copacabana and Leme beaches are said to be less safe than their neighbors in Ipanema or Leblon therefore visitors should be vigilant and leave valuables at home or at the hotel.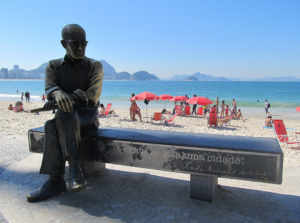 At the Beach
Most locals and beach regulars need no more than a kanga (sarong) and a soft patch of sand but for those requiring more support, there are barracas (vendors stationed every five to ten meters renting cadeiras (beach chairs) and guarda sol (umbrellas). Most speak enough English to take your money and up-sell some refreshments.
Chairs usually range from R$3 – R$5 and umbrellas for R$5-R$7 though some opportunists may try to charge tourists more during high season. It is, therefore, perfectly acceptable to haggle, and if necessary, seek a different vendor.
It is important to keep hydrated when out in the sun, especially mid-day, fortunately vendors regularly pace up and down the sand carrying food and drink. All of Rio's beaches are laced with kiosks selling water, soft drinks, chopp (beer), and fresh Agua de Coco (coconut water) for about R$3 – R$4 depending on the season and the proximity to Leblon (being the more affluent side, prices are normally higher).
During the early evening these Kiosks get busy as sunbathers move off the beach in favor of a refreshing Caipirinha which usually cost about R$8-R$10 and are occasionally accompanied by live music.
Swimming warnings must be heeded. Since Rio's beaches have nearly all been enlarged with sand banks it has created a situation of dangerous undercurrents, and it is important that bathers look out for red flag-posts that mark where it is not safe to swim. If in doubt, there are lifeguards to ask or simply bathe where the locals are.