By Lise Alves, Senior Contributing Reporter
SÃO PAULO, BRAZIL – Home to the largest Japanese community outside of Japan, São Paulo's Liberdade neighborhood is a city within a city. Lined with Japanese lanterns and specialty shops for Japanese food and home products, the area is a goldmine for those searching for the best sushi or Japanese decorative merchandise.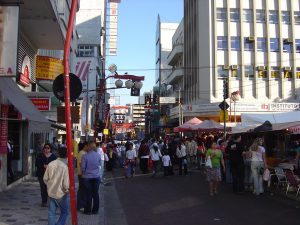 "Here you find the best ramen houses in town, as well as good-quality, cheap sushi bars," says Nikolas Silva, a student who at least once a month travels across town to eat in the Liberdade neighborhood.
The food and specialty markets are an attraction of their own, with traditional Japanese cooking ingredients and imported kitchen supplies for those venturing to cook a traditional Japanese meal at home.
Since most of the products are imported directly from Japan, and many do not contain a Portuguese ingredient version, shop owners and employee are always at hand for a quick translation.
On Sundays, the Liberdade neighborhood hosts an open market artisan fair, with stands selling everything from noodle and Yakisobas combinations to paintings and home decorations.
With its own Japanese-language newspaper, the neighborhood has kept much of the traditional Japanese culture alive, despite being one of the most popular tourist attractions in the city and receiving thousands of visitors a week.
A large percentage of the people living in the Liberdade neighborhood came to São Paulo during World War II and it is fairly common to hear entire groups speaking Japanese while walking down the street.
Liberdade is also the home of popular Asian celebrations, such as the Chinese New Year's Parade and Japan's Tanabata Matsuri (Festival of the Stars).