By Lucy Jordan, Contributing Reporter
BRASÍLIA, BRAZIL – With much of the world's political attention focused on the marvelous city for Rio+20 last week, and other celebrities posing for fashion bloggers in São Paulo the week before, some could be been forgiven for overlooking the real capital of Brazil – Brasilia. Yet to do so would be a mistake.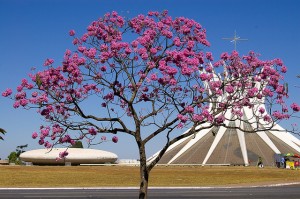 Built on the plains of the Cerrado just over fifty years ago by architect Oscar Niemeyer and city planner Lucio Costa, Brasilia's austere modernity can put visitors off balance. But beyond the science fiction feel, the city is cultured, lively and verdant.
The architecture and city design are far from the only thing Brasília has to offer, but probably the first thing friends will ask about after returning home from a visit, so it is always recommended to get some classic Niemeyer crossed off the list early.
For a whistle-stop tour, start at the geometrically elegant Biblioteca Nacional (National Library). Walk east to Niemeyer's latest, the Museu Nacional Honestino Guimarães (Honestino Guimarães National Museum), and continue as the light fades into evening.
First visitors pass the famous Catedral Metropolitana (Metropolitan Cathedral), then the celebrated Palacio de Itamaraty. Finally, they get a view of the Praça dos Tres Poderes (Plaza of the Three Powers), uplit in eerie colors.
For supper, Nossa Cozinha Bistro in Asa Norte provides a change of pace from both plastic chair botecas and upscale eateries, of which there are many. At once stylish and cozy, it has decent wines, and a small, inventive menu that changes weekly – except for the meltingly tender short ribs that are, rightly, a standby.
Weekend warriors should try to wake early on Saturday, and slip into the Santuario Dom Bosco (Dom Bosco Sanctuary) and bathe in its eerie blue glow. Many hire a sailboat and view the city from Lake Paranoa. But why not do as the locals do and spend your Saturday unhurried, unharried, sipping ice-cold beer and gently dancing the afternoon away to live samba music at Bar do Calaf.
Later, head to Segundo Cliché, a hip journalists' haunt in Asa Norte. The name means second edition and it has an extensive menu of regional cachaça, the national liquor made from sugar-cane.
The 730-feet tall Torre de TV (TV Tower) isn't much to look at (think giant electricity pylon), but once inside visitors get the best view possible of Costa's Plano Piloto – without hiring a helicopter. On weekends there is also the fair at its base, with local handicrafts and some excellent regional food stands.
Round off the weekend with a taste of Brasília's burgeoning art scene. The Centro Cultural Banco do Brasil (Bank of Brazil Cultural Center) is down on the lake, with an art-house cinema, two theaters and changing exhibitions.
For a more intimate experience Objeto Encontrado is a small but perfectly formed gallery showcasing the best of contemporary local art and photography as well as found objects and curiosities. (Tip: it also has the best gift shop in the city – to pick up something to show friends what they missed.)