By Fiona Hurrell, Senior Contributing Reporter
RIO DE JANEIRO, BRAZIL – Each year millions of tourists visit Rio in search of breathtaking beaches and lush green mountains that have established the city as one of the most attractive holiday destinations in the world. Befittingly named Cidade Maravilhosa, Rio's fabulous sights and major upcoming sporting events ensure that it remains at the top of many travel wish lists.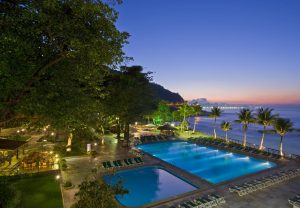 When luxury is the order of the day, Rio doesn't disappoint, offering a variety of top notch accommodations that leave little doubt of the elegance and sophistication that resides happily within the laid back spirit of the streets.
Perhaps the most famous is the Copacabana Palace, which is without question the original luxury hotel in Rio that has continued to remain amongst the highest ranking resorts thanks to its ongoing attention to detail and supreme hospitality.
The breathtaking white façade is synonymous with Copacabana and it's interior doesn't fail to impress either. The guest list has included royalty, movie stars and musicians.
It has even become a star in its own right, posing as the setting for the movie classic "Flying Down to Rio' in which Ginger Rogers and Fred Astaire famously danced together in the hotel.
The most prominent in Ipanema, is the Caesar Park hotel, which sits in front of Ipanema Beach's famous posto 9 where the young and beautiful congregate. The hotel is polished with luxury and naturally offers a wide range of services and amenities including a pool, and is just a two-minute walk to all the shopping available on Visconde de Piraja.
Marketing Assistant Carolina Tardelli states, "Our guests know for a fact that in those destinations where Caesar Park hotels are located, they are synonymous to refinement, exclusive personalized service, comfort and a warm and different atmosphere."
Situated just a stone's throw west of Leblon, is the Sheraton Rio Hotel & Resort which offers unabated opulence in the form of landscaped grounds, swimming pools and a spa while the guestrooms boast serene ocean view balconies.
Sheraton's communications manager, Sarah Moreira, adds, "This is the only hotel in the city right on the beach and with the characteristics of an urban resort, it's the only property that features three swimming pools, outdoor Jacuzzis, outdoor massage bungalows, two tennis courts, one multi-purpose court, kids club, Spa, health club and gym. In addition to the several dinning outlets and bars."
For those who may prefer an alternative to the classic beachside views, the Hotel Santa Teresa offers secluded hillside comfort nestled within the quaint and artsy community of Santa Teresa. A favorite destination amongst the stars, including the late Amy Winehouse, this impressive boutique hotel was once a coffee plantation mansion complete with tropical gardens and sumptuous interior design.
It's facilities include a gourmet restaurant, large swimming pool and gardens plus beautifully furnished rooms and suites within walking distance of the colonial charm of Santa Teresa and musical nights in Lapa. The oasis can even act as a vacation from a vacation while in Rio, as the atmosphere is so unique in contrast with the beach neighborhoods of Zona Sul (South Zone), yet just a cab ride away.
Back in Ipanema on the edge of Arpoador is the notable Fasano Hotel, unfortunately the luxury prices come with patios facing a noisy, high-trafficked road and a beach that is often overrun by ocean tides or commuters from the Metro subway close by. Despite being frequented by a host of celebrities and carrying a five star award, a number of reviews have sited unhelpful and tardy service and staff which has somewhat spoilt their experience.