By Gregory Scruggs, Contributing Reporter
RIO DE JANEIRO, BRAZIL – With a mild climate and breathtaking views, cyclists are drawn to the streets of Rio in numbers, and for both the weekend warrior or the serious rider, the city offers a range of routes to explore. Brazilian traffic code stipulates that vehicles must give cyclists a 1.5 meter (five feet) berth, unfortunately the reality is much different on the heavily trafficked roadways. Cars, buses, and taxis barely give an inch, meaning the two-wheeled need to be extra alert.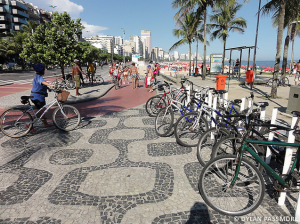 Some good news is that on Sundays and holidays, the oceanfront avenues in Leblon, Ipanema, and Copacabana and the Aterro do Flamengo between Botafogo and Centro are closed to car traffic.
The former is usually choked with skateboarders, joggers, rollerbladers, and children learning to ride. The latter, however, is much wider and less crowded, with some of the best asphalt in Rio. Any serious Sunday ride in Rio should include a run down the Aterro.
On weekdays and Saturdays, Flamengo Park is still an excellent option with a wide bike path in the beautifully landscaped grounds designed by Roberto Burle Marx. With connections to the bike path along the Enseada de Botafogo, one can ride seamlessly from downtown to Leblon along the waterfront.
The area around Rio Sul shopping center can get confusing, however, and requires navigating a few tunnels. While hardly a regular occurrence, muggers have been known to pounce on unsuspecting riders in tunnels, so it is best to ride with someone else.
The beachfront bike path so well known in Zona Sul (South Zone) – though often treacherous because of pedestrians crossing to the beach – continues in much less trafficked São Conrado, and on into Barra da Tijuca. In Barra, it ultimately switches to the non-beach side of the road as you head west toward Recreio, and parallels the Barra lagoon.
For those who don't wish to brave Avenida Neimeyer (Leblon to São Conrado) or Estrada da Joá (São Conrado to Barra), bicycles are allowed on the metrô, including metrô buses, after 2PM on Saturdays and all day on Sundays and holidays. Buses equipped for handicapped passengers will also accept bikes at any time.
More serious riders will enjoy a ride up to Rua Vista Chinesa from the Horto neighborhood. While demanding some serious quad strength to tackle the seemingly endless ascent, it is a Rio cyclist's favorite haunt.
Many turn around for the thrilling downhill once they reach the Chinese-style pagoda with breathtaking views over the Zona Sul. Those that continue on are rewarded for a little more climbing with some truly excellent cycling in the Floresta da Tijuca National Park and the Alto da Boa Vista neighborhood.
In addition to returning to Horto, other roads descend to São Conrado, Barra da Tijuca, and Tijuca.
Finally, if you are looking for a group ride, options abound from the local affiliate of Critical Mass (Bicicletada) to the Passeio Completo to bike stores like Kraft.
Meanwhile, the city government announced at the end of last year the campaign, "Rio Capital da Bicicleta". Among other goals, there are plans to double the existing network of bike paths, currently the largest in Brazil and second largest in Latin America at 150 kilometers (93 miles), by 2012.
Although Rio's existing bike paths vary widely in quality, this can only mean good news for those who like to explore the city on two wheels.