By Stephanie Foden, Contributing Reporter
SALVADOR, BRAZIL – In Salvador, when the words 'Carnival' and 'World Cup' are heard by budget travelers they are followed by thoughts of overpriced hostels and pousadas. Despite tricky circumstances, these massive events can be done without emptying ones bank account.
For a backpacker on the road, a simple option is to camp, however there are few sites in Salvador and surrounding areas. One is an hour's drive away from the popular tourist spots of Barra, Pelourinho and Fonte Nova Stadium, the Camping Ecológico de Itapuã.
The campsite, which is actually in Praia de Flamingo beside the famous neighbourhood of Itapuã, is full with amenities – including toilet blocks, showers, BBQ facilities and a bar.
Jane Bell of Cruz the Coast Brazil organizes trips between Rio and Salvador throughout the year, including for the World Cup. She said "its got a very relaxed feel to it. We call it 'the real Bahia.' You're at the campsite you don't even feel like you're in the city of Salvador. It feels like a world away."
For those concerned with Salvador poor safety reputation, there is 24-hour security and a storage room to lock valuables. Although the camping grounds are directly on the beach, it is separated by a large security fence.
"I was with a group of people and I felt safe the whole time," said Australian backpacker Mia Ryan who travelled and camped with Cruz the Coast Brazil in Salvador last Carnival. "I was travelling by myself, so this definitely seemed like an easy and reasonably priced way to do Carnival."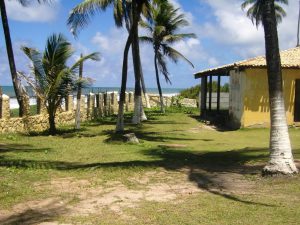 For more options, campers must look outside of the city to Itaparica Island and the beach towns north of the city. However these spots are quite a trek if planning on attending games for the World Cup.
In Rio during the upcoming World Cup, two property developers, Andrew Allan and Steve Pike, saw a business opportunity. Together the English expatriates founded World Cup Camping Rio, a campsite in the Zona Oeste (West Zone) neighborhood of Recreio – about an hour from Maracanã Stadium on a good day.
Another way for budget travelers to save their wallets during their stay in Salvador is CouchSurfing. The popular social networking site connects travelers with locals offering a free couch, or bed, or floor, or whatever surface one can sleep on.
"It's a great opportunity for exchanging cultures, languages and habits at a low to no cost for both the guest and the host," said Salvador's CouchSurfing ambassador Pedro Abreu. "Carnaval is a particularly busy period as the whole world seems to be flying into town. I once had six guests simultaneously. It was pure chaos, but I guess that's what Carnaval is about."
Unfortunately by going this route there are no guarantees, especially during a busy time like the World Cup. However successfully finding a host can result on both a free stay and a great way to connect with Baianos.