By Stephanie Foden, Contributing Reporter
SALVADOR, BRAZIL – In the heart of Bahia state in Northeastern Brazil, far from the infamous sun-drenched coastal city of Salvador, lies Chapada Diamantina, a 587 square-mile national park. For those seeking tranquility, history and outdoor-adventure it is a true gem – and not because both gold and diamonds have been found there.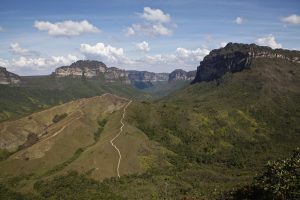 Chapada Diamantina park is a natural beauty boasting with gushing waterfalls (home to the tallest free-falling in Brazil), dramatic plateaus, idyllic rivers and enticing caves.
It received national park status in the 1980s, and is home to more than fifty kinds of orchids, bromeliads and other native flowers, as well as abundant wildlife such as armadillos, anteaters, wild cats, birds and snakes.
There are several old diamond-mining towns that serve as a gateway, however the municipality of Lençóis is the largest and prettiest. Here travelers can find a variety of tours and treks with professional guides into the picturesque national park.
For those with time to spare it is recommended to check out Lençóis itself though, as the charming town is rich with colorful colonial architecture and cobble-stoned streets. Everywhere there are reminders of the great wealth that swept the town when diamonds were discovered in Chapada Diamantina, which made Brazil the first world producer of the stone during the early 20th century.
The town, declared a National Historical Monument, comes to life at night with live traditional Brazilian music, an artist market and a variety of food vendors serving up delicious Bahian cuisine. Within walking distance of the main square are natural pools, waterfalls and massive stonewalls.
For those with less time, a half- or one-day tour will whisk you around in an air-conditioned van to some fantastic nearby caves, grottos, waterfalls and mountains.
Although these sites can get a bit busy, especially during high season, it is well worth the crowd. The day usually includes a full lunch, and light hiking is required.
For a more unique experience, opt for a trek – locals recommend doing at least three days to further explore Chapada Diamantina's alluring depths. A guide is recommended, costing around R$160 a day, which includes their services and all meals, although experienced hikers going alone are not uncommon.
Experts recommend to pack light but necessities not to be forgotten are bug spray, flashlight, bathing suit, jacket (it can get surprisingly chilly at night) and perhaps most importantly a camera for capturing the stunning scenery.
The trekking, depending on the route, can get technical at times on the unmarked trails, however most of the walk can be done with ease. It is very remote, so one might be going for several hours before encountering other hikers.
At night hikers can either enjoy a rustic camping experience under the stars or stay in a small village. Here showers will be cold and rooms are often candlelit, but there is a certain charm to these small communities that might make many feel like extending their stay.
The easiest way to get there from Rio de Janeiro is to fly right to the Coronel Horácio de Mattos Airport in Lençóis. Make sure not to fly to "Lençóis Maranhenses", which is a completely different destination in Maranhão state.