By Ben Tavener, Senior Contributing Reporter
PARANÁ, BRAZIL – Stretching down Brazil's eastern seaboard, the Serra do Mar is a picturesque mountain range which makes up part of the Mata Atlântica – a mix of lush, tropical forest, savanna, and drier woodland. The area provides an exotic, energetic feel of a jungle – and is perfect for the more adventurous hiker.
Pico Paraná is the highest mountain in Brazil's Região do Sul (Southern region), located in Paraná near the border with São Paulo state and, at 1,877m (6,158 ft) is just high enough to feel the altitude. By comparison, The U.S. Rocky Mountain range's highest peak is Mount Elbert in Colorado at 14,440 feet (4,401m).
As Pico Paraná takes at least twelve hours to ascend and return, some opt for its just slightly smaller neighbor – Pico Caratuva. At 1,860m (6,102 ft) and more navigable it only takes seven or eight hours and is a more manageable day's hike.
The journey to the top of Caratuva took about 3.5 hours, broadly divided into three legs: an initial ascent through mangled, dense, drier woodland; then a midway plateau which gives stunning low-level views of the surrounding countryside, and also gives some respite before the final leg: the jungle ascent and main climb to the summit.
Although you can hear wildlife all around you, it is hard to see in the thick forest. However, majestic urubus, or black vultures, can be easily seen circling on the thermals in the valleys.
Twisting and turning through the mangled vegetation of enormous trees with equally enormous roots, bamboo stalks and exotic flowers, including bromeliads – hikers soon get used to thinking about where the next step will be, and which branch to grasp next for balance.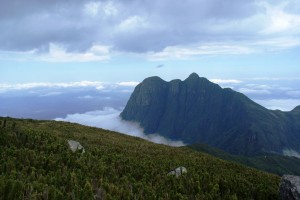 As it gets steeper, arms become as important as legs, if not more so – and hikers quickly realize they are in for a full-body workout.
After a long climb, suddenly glimpses of how high the trail has led can be seen – with sunlight breaking more and more frequently through the jungle canopy. Then suddenly, climbers reach the final few meters of the trek – the open, low-lying vegetation and granite boulders of the summit.
The stunning views from the top, which overlooks neighboring Pico Paraná and other Serra do Mar peaks, make the long climb well worth it.
Depending on when the hike started and the time of day, most find time to take in the stunning views, grab a bite to eat and swig some water, before the descent back to base camp begins.
It is highly advised to pick a dry day for the climb, as the area is lush and green for a reason. Being at cloud level means this area is used to a lot of rain, but a drier day will mean the route will not be too muddy and will be more enjoyable.
The main trail to these mountains starts from Fazenda Pico Paraná, where hikers are registered in case they get lost, which is located 5km along a dirt track from the Curitiba-São Paulo stretch of the BR116 highway.
Most consider that a car is needed to get there, although it is possible to take a bus to the turn-off. Hikers must bring a whistle and a flashlight to hike this trail. Entrance to the trail, including parking for a vehicle, costs R$10 each.