By Stephanie Foden, Contributing Reporter
SALVADOR, BRAZIL — It's that time of the year again. As the holidays are just around the corner, it's time to think about plans for Christmas and New Years. Rio de Janeiro and São Paulo have no shortage of attractions, but looking beyond Brazil's two largest cities, there are plenty of festivities to go around.
Just 180km northwest of Rio lies Penedo, a small town founded by Finnish settlers in the 1930s. Often referred to as "cidade do Papai Noel" (Santa Claus city), Penedo has quaint narrow streets with chalet-style architecture, several homemade chocolate shops and one attraction billed as St. Nick's summer home.
Heading further south, Curitiba is an ideal place to get into the Christmas spirit. Throughout November and December, the capital of Paraná is dubbed as Brazil's Christmas capital for its season makeover and many Christmas-themed events.
One of Curitiba's biggest traditions is the famous Christmas carols concert performed by the Palácio Avenida Children's Choir, which runs several times through the holiday season. After the one-hour show, concert goers can walk a few blocks to bazaars at Andrade Santos and Praça Osório where stalls offer a plethora of Christmas decorations, gifts and food.
"There is a tradition of Christmas celebrations in Curitiba where the city center is beautifully decorated and there is a magical atmosphere, with different things happening around the city," said Curitiba-born writer Dani Pompeo. "The celebrations have grown and this year they are going to have lights, fireworks and image projections followed by a larger children's choir in front of a hotel. There will also be Christmas plays and Nativity displays throughout the city."
Once the Christmas festivities have come to a close for the year, there is barely enough time to catch a breath before the New Year's Eve celebrations begin. Rio's Reveillon might be the most famous party in the country, but huge events are held in several capital cities, all with similar ingredients: people dressed in white, live music and, of course, fireworks.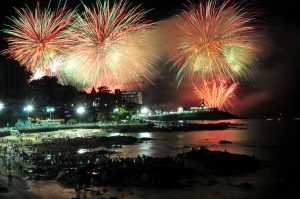 Like many coastal cities, Salvador holds a strong tradition rooting from Bahia-born Candomblé religion: when the clock strikes midnight, hordes of locals and visitors head to the beach to light candles, jump seven waves, and throw flowers into the ocean for good luck in the new year.
Celebrations in the Northeast city of Fortaleza are some of the best in Brazil. Several tourists and locals flock to the city which has spread out the official festivities over three hubs – the greatest of which is on Iracema Beach, where more than one million people gather to ring in the New Year.
"The amount of people and loud noise disturb me a little, but the overall atmosphere is rather positive and contagious," said local communications consultant Gabriel Ramalho. "The concerts begin at sunset and there are a lot of different artists and bands from several musical genres. It is a very democratic party, no puns intended, and it's nice to see people from different origins, economical statuses and interests celebrating together."
While it might not feel like Christmas and New Years for those used to spending the season in the chilly northern hemisphere, there is plenty of holiday cheer to go around, all while getting a suntan.