By Jay Forte, Contributing Reporter
RIO DE JANEIRO, BRAZIL – While Rio de Janeiro has certainly suffered setbacks to its image since the Olympics, the travel industry in Brazil sees potential, and a number of outfits remain poised to service the luxury travel sector.
Passenger demand for international flights grew by 16.78 percent in August this year compared to the same month in 2016, and from January to August, international demand grew 13.2 percent, according to data released yesterday (September 21st) by the National Civil Aviation Agency (ANAC).
Last month, Vinicius Lumertz, president of the Brazilian Tourism Institute (EMRATUR), announced that Brazil has the highest tourism potential among all countries in the world and can almost triple the current annual revenue of the sector, estimated in the last twelve months to be approximately US$7 billion.
The official announced a proposed new Agência Brasileira de Promoção do Turismo, and said, "We believe that we have US$7 billion in revenue, and we will move to close to US$20 billion in revenue, increasing jobs, which is a top priority of the country at the moment."
This may seem like a lofty goal given the economic crisis Brazil has been going through, and specifically Rio's struggles with security since hosting the 2016 Olympics Games over a year ago. Yet with a new high-season coming around, despite initial data, there is optimism in the segment, especially for luxury travel.
British expatriate Paul Irvine, and director of Dehouche travel shares, "In Rio we are used to negative press we had just as much ten years ago as we do now, however I think the luxury traveller is ever more discerning, they want to experience the real Rio and get under the skin of the city, but do so in great comfort and style."
Roshni Thakker, an American expatriate in Rio and director of XperienceRio, shares her thoughts on the the up-market travel sector. "We have not experienced much of a decrease in our Luxury Tourism sector."
"However, our individual luxury guests have adapted their services elected here; opting for representation on call 24 hours, increasing the hiring of body guards, and helicopter verses ground transportation on their trips to the outskirts of Rio."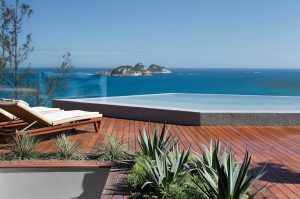 The drawl to Rio remains irresistible to those who aren't satisfied at a cookie-cutter resort, and Thakker explains it comes down to, "Nature plus metropolitan area plus culture and vibe of the people."
"This is the key formula that we believe has given Rio such draw. While still a high expectation for service quality, luxury tourist search for exotic, traditional, and rare experiences," she shares.
While travel aficionados keep an eye out for the next hot spot, it will always be hard to top the beauty of Rio, especially as hurricanes and natural disasters beat much of the Caribbean and Central America.
Irvine recounts, "When Dehouche was founded thirteen years ago, I hadn't been to the other cities you often hear vie for the title of most breathtaking city in the world. But I have since then put that right, and have been to Cape Town, San Francisco, Sydney etc. and I have to say – Rio is simply the clear winner in my opinion."
In terms of a travel tip, Irvine shares, "It is possible now in Rio to split a stay between 2 or 3 locations in the city especially as part of a broader Brazilian itinerary – perhaps fly into Rio and spend a couple of days in a more historic neighborhood then at the end of the trip try out a penthouse on Ipanema beach."
As the days get shorter in the Northern Hemisphere and the reality of winter whispers in the ears, travel plans start to sprout. Rio de Janeiro seems ready, settled in the new old reality of a city marked by stark contrasts in society and nature, and where for the right price the best of everything can be found.