By Hakan Almerfors, Contributing Reporter
RIO DE JANEIRO – Visiting markets is a great way to experience Rio. There are quite a few different types spread around the city; fruit and vegetable, seafood, antique, souvenir and flea to name but a few – and following are some of the most interesting.
The Sunday Market in Ipanema; the Hippie Fair – Every Sunday starting at around 10 AM on General Osório square in Ipanema is this very popular market. Art, jewelry, shirts, bags, furniture, hammocks and foods from Bahia are just a few examples of what you find here – but what it doesn't have is a lot of clothes. The perfect pastime before or after the beach on a Sunday, it goes on until the early evening.
The Night Market in Copacabana – Monday to Saturday on Avenida Atlântica (in between Rua Bolivar and Rua Sá Ferreira, close to Posto 6) the stalls here open around 6 PM and close shortly before midnight. This is probably the optimal souvenir market catering heavily for tourists, and as such is a good bet for football shirts, capoeira pants, hammocks, T-shirts and souvenirs.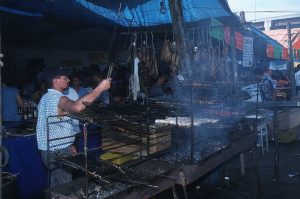 São Cristovão Market; Feira Nordestino – Every Friday, Saturday and Sunday starting at 10 AM this market caters to the large community of Brazil's Northeast living in Rio. It is huge with over 700 stalls; selling sunglasses, handicrafts, clothes, food and CD's, and is home to a lot of restaurants and bars. At night the complex fills up with people eager to dance forró to live bands, and stays open until the sun comes up. The complex is located about 20 minutes by cab from Copacabana.
Farmers Markets – These open air markets are the best places to buy fruit and vegetables in Rio. Not only does the competition guarantee good prices and high quality, the selection is excellent. It is well worth a visit just to be amazed by all the tropical fruits and to see the lively commerce in action. They all start in the morning and run until around midday, though the best deals are to be made after they are open for a few hours. They take place in different locations everyday – the biggest and best is on Praça General Osório in Ipanema on Tuesdays.
Uruguaiana Arabian Market – Close to the Uruguaiana Metro station in Centro, this one houses hundreds of stalls selling almost anything you can imagine. Fishing rods, DVDs, wallets, trainers, clothes, sunglasses, jewelry, toys, car parts…and more. Open Monday to Friday from 9AM until about 6PM, Saturdays until around 3PM.
Praça XV Flea Market – From early morning until about 2 PM every Saturday is this second hand market in Centro. Cameras, toys, books, clothes and vinyl records are just some of the items you can find here. The market is located just off the square, a short walk down the stairs at the end closest to the harbor. Be a bit careful around these parts of Rio, and it is certainly recommended you don't bring your valuables.
Photograph above of a typical food stall in a Rio market, provided courtesy of www.bigfoto.com.
———–
Hakan Almerfors is Swedish and has been living in Rio de Janeiro since 2003. He has been working with tourists ever since, in 2007 he created the Rio travel information site Gringo-Rio.com