By Lisa Flueckiger, Contributing Reporter
RIO DE JANEIRO, BRAZIL – The lure of the famous Copacabana and Ipanema beaches obviously accounts for many of the thousands of visitors flocking to those neighborhoods every week, but staying in one of Rio's more historic regions can offer a different insight on what it is to be a Carioca. If you're happy to stay a bit further than just a stroll away from the sand, The Rio Times handpicks some of the best off-beach hostel options.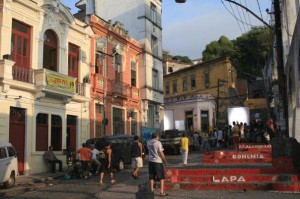 Known for its samba parties and cachaça-fueled nightlife, Lapa is always a popular weekend hotspot, but more recently the area also holds some good accommodation options. Staying in the middle of the action at Bohemia hostel is ideal for those not worried about catching up on their beauty sleep.
"Our hostel is well located, in the bohemian heart of the city where there are a lot of places with different lifestyles, rhythms and nice people," explains Bohemia's manager Cristina Silveira.
"We also are the only hostel in the city who has an Irish Pub next door, with rock karaoke and live concerts. Once staying with us you will have a unique experience; leaving Rio with a very nice idea and impression about Carioca's way of life." The Bohemia Hostel (riobohemia.com) has three dormitory-style rooms, two with fourteen beds and one with eight, and rates start at R$28.
Head up the hill between Lapa and Glória to the ever-creative neighborhood of Santa Teresa, famous for its cobbled streets, relaxed atmosphere and welcoming bars. In keeping with the area's artistic feel, the Bellas Artes Hostel in Rua Candido Mendes moved to its new premises in June and stands out thanks to its bright, simple and eclectic decoration. The ten-bed mixed dormitory and four-bed female-only dorm start at R$40, and the private rooms are from R$60 a night.
Laranjeiras newcomer Refúgio Hostel is set in a beautiful old mansion that was fully reformed earlier in 2013. Well located between Copacabana and Centro, and on the main route to the Christ the Redeemer tram station, the hostel offers several dorms of different sizes (from R$30) and four private rooms (from R$150), as well as a decent café.
"Refúgio hostel is made for backpackers, climbers and nature lovers. Our main goal is to make every guest have the best experience of their lives during their stay with us and we do what we can to realize that," Ilana Cac from Refúgio hostel told The Rio Times.
A little closer to the dazzle of Copacabana in Botafogo, one of Rio's up-and-coming neighborhoods, is the Contemporaneo hostel. On a calm street just off the booming main drag of Rua São Clemente, and five minute's walk from the subway station, it occupies a fully renovated house dating back to 1904.
As Beth Agra, one of Contemporaneo's  business partners, told The Rio Times, "Being in the heart of Botafogo is great for all the transport facilities, with several Metrô and bus lines to everywhere in the city. Additionally, the neighborhood sports many preserved historic houses like our own Contemporaneo building and it is great to look at the architecture of the area."
The hostel hosts regular weekend parties and fashion events and offers dorms for nine, six and four people starting at R$45 as well as private suites starting at R$250.
For those who want to combine staying in the middle of Rio with some of its unmistakable natural beauty, Nature Adventure Hostel in Botafogo is an excellent option. Ecologically conscious by design, the hostel lies in the green, uphill oasis that separates the neighborhood from Copacabana and offers six private rooms (starting at R$110) and two dorms for up to sixteen guests (from R$29).
An ever-growing alternative to Rio's more sea-level neighborhoods is a stay in one of its pacified favelas. Alto Vidigal hostel stands atop the sprawling Vidigal favela with breathtaking views over Ipanema and out to the Atlantic Ocean. Staying in a favela needn't be considered any more dangerous than other regions of Rio as long as you are sensible and alert, but the hostel is famous for its all-night parties so it is well worth packing the ear plugs. Four-bed dorms start at R$35 and private rooms are from R$50.
Prices in this article are based on midweek, low season rates and can fluctuate significantly.