By Sarah Coursey, Editor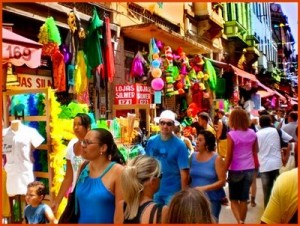 RIO DE JANEIRO – For Cariocas, there is a street in Rio where you can find anything and everything. In Rio's Centro, that place is Rua Alfândega. To make matters all the more interesting, it is surrounded by a cluster of streets collectively known as SAARA (Sociedade de Amigos das Adjacências da Rua da Alfândega), in which this 'everything' is multiplied into a cornucopia of more than 600 shops, selling items from Carnival plumes to kitchen sinks, all at reasonable prices. It is well worth a morning visit for the cultural experience of being in a bazaar-like environment and for the bargain gems one can find only here.
Saara is comprised by shops along the streets of Passos, Andradas, Buenos Aires, Alfândega and the Praça da República square. Rio's largest variety of merchants can be found here, from clothing to toys, sports equipment, artificial flowers and costume accessories, among many others. It is a fantastic popular Carioca market and often overlooked by tourists, which helps keep prices reasonable. You are more likely to see a local shopping here as well, which creates an authentic atmosphere.
Aside from being able to find literally anything you are looking to buy – at non-Gringo prices – you will shop to the soundrack of Rádio Saara. The station has a mix of hilarious tirades and improvised jingles, at times to the rhythm of Carioca funk music. An altogether bizarre mix of sights and sounds gives one the feeling of truly being in a different world, far from the postcard views of Zona Sul.
The best bet is to go with a bit of money in your pocket and no itinerary. You will end up stumbling across something that you had been looking for (that square yellow button for a dress or an antique door opener, or a rare cooking ingredient perhaps) or otherwise fall in love with something that you didn't even know existed before visiting Saara.
True to its name, the small streets packed with shops and people can create a lot of heat in the summer months. It is best to go on a cloudy day, depending on your resistance. A top tip is to bring a backpack to carry your wares, and take a look around all of the shops before buying. There is only so much that you can lug back home, and it is a shame to cut the day short for something as banal as tired arms. In addition, there can be price differences worth comparing for those traveling on a budget.
The best way to get to the market is by the Metrô, with the station Uruguaiana being the closest. The market is open during the week from 9:00AM until 2:00PM, according to the 'official' hours. There are also shops that open from 5:00AM (!) for those seriously early birds looking for a bargain. In general it is not recommended to go on Saturdays after mid-day as many shops will be closing.
Correction: August 26, 2010
This article was first published on October 9th, 2009 with SAARA wrongly translated.