By Chesney Hearst, Senior Contributing Reporter
RIO DE JANEIRO, BRAZIL – In addition to Rio de Janeiro's 450th anniversary, one of the city's most famous and picturesque structures, the Santuário da Penha (Penha Sanctuary) of the Igreja da Nossa Senhora da Penha (Our Lady of Penha Church) is celebrating its 380th anniversary this year.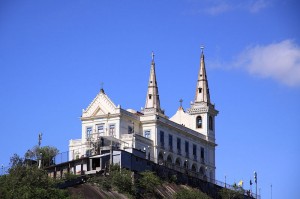 Located on the outskirts of the city, Nossa Senhora da Penha is a Catholic church that sits high atop Morro do Cariri in the Rio de Janeiro neighborhood of Penha. The church is known for its 382 carved steps that lead up to the church on its 111 meter-high-perch and the millions of pilgrims who yearly ascend the stairs.
Partly because it is a trek to make it to the top by foot, the church is also accessible by two cable cars. Once at the top, all visitors are rewarded with breathtaking views of the city.
The Sanctuary also is home to the Sala dos Milagres (Room of Miracles) and the Museu do Santuário da Penha (Penha Sancturary Museum) with an exhbition of paintings of Nossa Senhora. The space is open during all of Sundays of the ongoing celebrations this month and entrance is free.
Even though the Sanctuary's 380th anniversary was officially on September 14th, organizers and the City of Rio de Janeiro are continuing to celebrate the anniversary throughout the month of October with anniversary celebrations in addition to the regularly scheduled masses, pilgrimages, and church activities.
On October 12th, Dia de Nossa Senhora da Aparecida (Day of Our Lady of Aparecida) and Dia Das Criancas (Children's Day), guitarist Luiz Otávio Braga will lead a roda de choro by the Coreto on the patio in the Sanctuary. On October 18th, there will be a tribute to Brazilian singer-songwriter Dona Ivone Lara and then on Sunday, October 25th, the group Lata Doida will present storytelling workshops.
Additionally during the last three weekends of the month there will be guided tours of the church and the surrounding neighborhood.