By Georgia Grimond, Senior Contributing Reporter
RIO DE JANEIRO, BRAZIL – Salvador, the capital city of Bahia state and the former capital of the country under the Portuguese, is encouraging visitors to come and see in 2016 on its streets. Known for holding the biggest street party in the world over carnival, it is now promoting its New year's Eve events to be almost as much of a draw.
This year Réveillon (new year) will be celebrated over five days, from December 28th to January 1st. The mayor's office, along with sponsors including the beer brand Schin, have put R$7 million into infrastructure and a schedule of over three hundred artists to perform in 23 shows.
"The mayor, ACM Neto, made sure to launch the program at local and national level fostering greater visibility for our city. The idea is to make New Year's Eve into the second largest party in the annual calendar of events," said his office in a release.
Top Brazilian performers such as Ivete Sangalo, Jota Quest, Capital Inicial, Luan Santana, Daniela Mercury, O Rappa and Jorge & Matheus will perform with the main celebrations taking place Visconde de Cayru, in Comércio. Over 1.2 million people expected to attend the shows.
At midnight on December 31st the city will put on a fourteen-minute firework display over the lighthouse at Barra beach. Afterwards usually people fill the streets and the partying runs into the dawn. In Brazil it is customary to wear white at New Year and many people, particularly followers of Candomblé, a popular religion with African roots, will release flowers into the sea.
Millions of slaves arrived from Africa into the port in Salvador during the Portuguese rule of the country and as a result Bahia has a unique culture which embraces aspects from Africa, Brazil and Europe. With religion, music and food at the heart of it, there are some essential stops for any visitor to Salvador.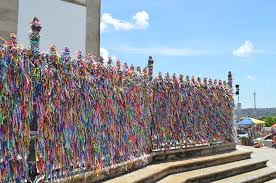 Take a five-kilometer taxi ride out of town to the Igreja de Nosso Senhor de Bomfim to see a service at this hill-top church. Worshippers there practice a mix of Candomblé and Christianity, and the room at the back is filled with wax limbs left as offerings. In the Pelourinho, or historic centre, wander between the churches, many of which have a sea of colorful ribbons tied, as blessings or wishes, to their railings.
Also in the Pelourinho it is worth going to the Balé Folclórico da Bahia, a show of local dance and stories that includes capoeira. The sound of drums and music often drifts through the streets too and can easily be enjoyed from a local bar. It is worth noting though that the Pelourinho empties out at night and it is not advisable to walk alone there after sundown.
The markets, particularly São Joaquim, are bustling with strange tropical fruits and vegetables, fresh fish and spices, but for a traditional meal in a tranquil garden, make the trip to Paraíso Tropical. There, many popular dishes are made with dendé oil and coconut giving a rich and delicious flavor. Or try the SENAC restaurant. For a set price visitors can try a wide variety of Bahian dishes made by pupils at the cooking school.
Since over ninety percent of hotel rooms likely to be occupied over Reveillon, it is wise to book accommodation in advance. Salvador caters to all budgets and there is wide choice of hostels in the Pelourinho. The classic Hotel Villa Bahia in the neighborhood is well worth a stop for a drink or dinner, even if it is beyond one's budget.
Rio Vermelho is an upcoming neighborhood by the sea. It has a number of mid-range hotels, including the boutique Hotel Zank, as well as a range of Airbnb apartments. For the more adventurous there are campsites on the outskirts of the city too which are ideal for backpackers.