By Lisa Flueckiger, Contributing Reporter
RIO DE JANEIRO, BRAZIL – Traveling in Rio is often thought of as sitting on the beaches of Zona Sul (South Zone), but locals know that the center of Rio's culture and music scene is in the neighborhood of Lapa. The Rio Bohemia Hostel lies in the heart of it, right next to the famous Arcos da Lapa (Lapa Arches) and was recently bought by American expatriates Bob Fetterman and Tom McGraw, and Carlos Molina from Chile.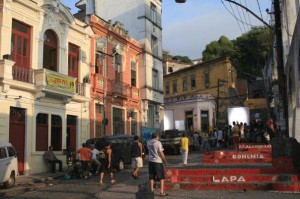 The hostel is characterized by its laid-back atmosphere and economic prices, with the name derived from being located in Lapa, the hotbed of Rio's bohemian lifestyle and street parties. It is also just above the Lapa Irish Pub, which Fetterman also bought last year.
When asked what is special about the hostel Cristina Silveira, the manager, explained, "Its location. The hostel is right in the middle of the party." The Rio Bohemia Hostel is also "the only hostel [in Rio] with its own Irish pub," Cristina adds.
The hostel also hosts its own parties and serves free caipirinhas at night. Currently, a new bar is built in the hostel's lounge, which has a great view out to the Lapa Arches.
The space offers three dormitory style rooms; two with fourteen beds each and one with eight beds. All rooms are equipped with air-conditions, low-level room lighting and rustic wooden bunk beds with individual lockers underneath.
Without diminishing any of the charm of the old building, the new management team performed a round of renovations. The hostel's facilities now include the mentioned lounge, where breakfast is served and which contains a small kitchen with a fridge and a microwave, several bathrooms and free wi-fi internet.
The ambiance in the hostel is one of friendship and openness and hostels are always a great place to meet fellow travelers. The English speaking staff is very helpful and they will give you many tips about your stay in Lapa and Rio.
Cristina also told the Rio Times that they have partner hotels outside of Rio, and will be happy to recommend trips outside of Rio, such as to Búzios and Ilha Grande.
While the weekend nights in Lapa are always crowded and full of energy, many week nights can be quiet. During the day things are also relatively laid back but Lapa is in walking distance to Santa Teresa and Centro, as well as thrift shopping options.
Contrary to what some say, Bob Fetterman explains that Lapa is not an especially dangerous area, stating that like everywhere in Rio, one just has to use "common sense". Also, recently police units in Lapa where enlarged, as 411 city guards will ensure safety.
Rio Bohemia Hostel can be booked via their web site or via all major hostel booking sites. Special Carnival and New Year's packages are offered, to cover this busy holiday period. The hostel is located on Rua Evaristo da Veiga, 147 (watch out, there are two streets with the same name), right in the corner of the Arches.