By Lauren Hogan, Contributing Reporter
RIO DE JANEIRO, BRAZIL – Hostels are not for everyone, usually appealing to younger, budget-sensitive travelers, and that goes double for the idea of staying at a hostel in one of Rio's favela communities. Since the Police Pacification Unit (UPP) program started to make an impact, hostels in favelas have been on the rise, especially with the World Cup in town, but there have been a number of incidents highlighting the risks as well.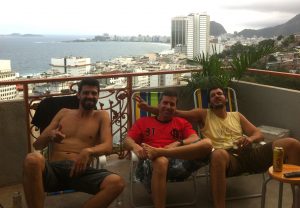 Safety concerns aren't the only reason many choose other modes of accommodation. While it will often work off a caipirinha, the hilly hike up to bed might not be ideal for late-night party-goers, especially through unfamiliar alleyways. Although most of the time mototaxis are present, which for a small fee, will cart tired travelers up and down the steep streets.
Other common concerns from travelers include lack of general privacy and cleanliness, while locals site concerns over the absence of state security and assistance to the community. However, to be fair, we're talking about hostels and favelas and so you get what you pay for.
Gabriel Geluda, co-owner of Abraço Carioca located in the favela community Chapeu Mangueira in Leme, says while each community differs, the benefits of staying away from the main [tourist neighborhoods] include everything from incredible views, cheaper prices, strong culture and kindness of the locals and the community's sense of care and zeal with one another.
The six-month-old hostel is already looking to expand, and with help from the World Cup tourism boom, which according to Geluda provided a two hundred percent increase in revenue, could be possible much sooner than expected – a clear sign that many aren't afraid to tread unfamiliar waters.
Still security is a real concern, just last week the news that Swedish expatriate, Mille Ballai, the new owner of Alto Vidigal hostel, was murdered will remind travelers that Rio, and especially favelas, can be a dangerous place. To make matter worse, in many of areas crime has been on the rise and the UPP efforts have been struggling to maintain credibility.
Geluda, on the other hand, says for many of the communities, the "security and safety is greater than on the asphalt," continuing on to say that muggings are rare, especially with the "ostensive presence of the police, 24/7."
Travelers from England, Ryan Armitage and Ben Seedhouse agree, "As soon as you get here any worries wash away. Everyone is so friendly, everyone says hello to you in the street on the way up. It forces you to make an effort and try to learn some Portuguese. There's a massive sense of community here – it's incredible."
Despite the positives, for others like American Bill Gelfeld, staying in the main tourist neighborhoods like Copacabana or Ipamema is the better option: "Go on the favela tours, appreciate the poverty, understand the differences of what the people are going through. I think the favela tours are a great thing, it raises awareness and money for the people living there, but staying there seems kind of insensitive."
While it's possible to explore the favelas on one's own or take a tour, perhaps the biggest reason for many to make the move into a favela hostel is to immerse oneself fully in a unique experience. For some it is the only way to go, and throngs of backpackers are likely to continue heading for the hillside community ups and downs.