By Stephanie Foden, Contributing Reporter
SALVADOR, BRAZIL – Swaying palm trees, powdery white sands and crystal blue waters – Brazil's enchanting tropical islands do a mighty fine job of defining a traveler's paradise. The island of Boipeba, just 110 miles south of the state capital Salvador, is for those looking for tranquility, and an unspoiled natural environment.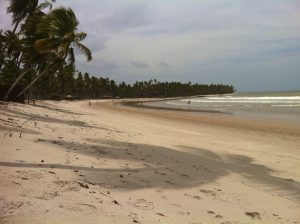 Unlike its more popular neighbor Morro de São Paulo, Boipeba is not a place for people who want luxuries and an upbeat nightlife.
The island's coastline is pristine, with more than thirteen miles of magnificent deserted beaches. The further away from the main village a beachgoer ventures, the less likely they are to run into another person.
Boipeba enjoys balmy weather, has a wide coral reef perfect for snorkeling and a rare swath of Atlantic rainforest to explore. During low tide, the reef creates serene natural pools to soak in. Boat and hiking tours of the island are some of the best things to do, if not sunbathing, taking naps in hammocks or gazing out onto the sea.
The village of Boipeba, on the northeastern tip of the island, is quiet and rustic. Here, there are no cars. Instead, wheelbarrows and horses are used to transport parcels from one place to another. The village, though simple, is rather charming with friendly smiles from its natives and bright picturesque houses.
At night visitors can wander around the shops of local artists, sip on caipirinhas or try some of the without-a-doubt freshest seafood around. Travelers can also visit a dendê oil press (roldão de dendê), a flour mill, and the Bone Museum created by native Mr. Hairy, a villager who compiled an impressive collection of fish and marine mammal bones.
Since most of the tourists heading this way go to Tinharé Island, where renowned Morro de São Paulo is located, there aren't nearly as many choices for accommodation, with only two hostels and a handful of pousadas on the island. However this shortage of travelers helps maintain Boipeba's original traits of island life.
In an online survey conducted by TripAdvisor, the world's largest travel website, Ilha de Boipeba in Bahia state was voted Top Island in Brazil in the Traveler's Choice 2013 awards.
The award is based on the quality and quantity of traveler reviews and comments on the site from the previous year. Under the South American Islands category, Boipeba ranked second to mysterious Easter Island, just off the Chilean coast. None of Brazil's islands made it to the top ten in the world list.
Boipeba was favored over Brazilian hot spots like Rio de Janeiro's Ilha Grande, UNESCO World Heritage Site Fernando de Noronha, and São Paulo's Ilhabela.
To get to Ilha de Boipeba from Rio visitors must first travel to Salvador, where they can catch a flight on a prop plane to the island (30 minutes one-way, about R$375), though many still opt for the ferry-bus-speed boat jaunt (four hours one-way, about R$55). Island-hoppers can catch a boat to and from Morro de São Paulo.
There are no ATMs on the island and credit card service is rare, so it is essential to bring enough cash for the trip.