By Fiona Hurrell, Senior Contributing Reporter
RIO DE JANEIRO, BRAZIL – Having thrilled an estimated four billion viewers with one of the most exciting sporting events of all time, Britain is still basking in the glory of its Olympic success. As Rio prepares to carry the torch, many in Brazil are opting to trade their sunny surroundings for a break in the diverse and historic Island of Great Britain.
Over the last two years, Britain has hosted a number of prominent events ranging from the marriage of Princess Diana's eldest son William to Kate Middleton, Her Majesty the Queen's Diamond Jubilee and the spectacular Olympic Games.
With the spotlight shining bright on Great Britain, it is little wonder that so many Brazilian tourists are attracted to this tiny yet intriguing Island that lies immersed in culture, history and beauty.
Rafael Fraga, a partner at Nova Investments, lives in Rio but has family based in the UK. He frequently travels to Britain for business or holidays and praises its superb sights and reliable facilities.
He states, "As a foreigner one of the first things I notice is how well organized everything is. From the moment I arrive at the airport the transport links are laid out and it's easy to get around. People are very friendly and helpful too."
Having recently returned from an extended trip to the Olympics, Fraga adds, "The games were incredible, and I thought the security was excellent. For me London is the most beautiful city on earth. There is so much culture and history. From there I visited Oxford and Cambridge, which were charming and picturesque."
In light of a number of recent high profile visits to Rio, that have included Prime Minister David Cameron and Prince Harry, Britain, in turn, is embracing Brazilian culture through a number of societies, organizations and themed restaurants that have brought people from opposing sides of the Atlantic together.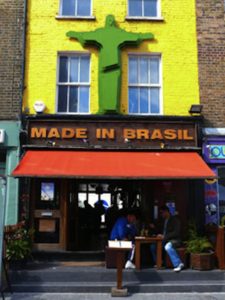 Catherine Bruce is a British expat who moved to Rio from Hertfordshire a year ago. Despite having fallen in love with Rio she still enjoys getting a taste of home once in a while. She reveals "I love the variety of landscapes, culture, food and even accent and dialect that a traveler can experience in a relatively short space of time from one destination to another."
Bruce also notes that one of the benefits of being a small country means visitors can do and see more. She explains "There's no need to fly anywhere to be able to see a sample of lazy seaside resorts, busy cities, castles, rolling hills, lakes and quiet country retreats – all is possible within a few days, if you don't mind racing around a bit!"
Luckily, a number of airlines fly between Rio's international airport and London Heathrow including Tap, Air France and Iberia but for direct flights, British Airways completes the journey in less than twelve hours, which is quicker than a trip to America's West Coast.
In addition, Britain offers a wide range of accommodation from cozy bed and breakfasts to contemporary city hotels or quirky guesthouses, all of which cater to a variety of tastes and budgets.
Felipe Wance manages Carpus Turismo Premium, a travel agency based in Rio. He believes that the tourist market in the UK is opening up for Brazilian travelers, revealing "For many years Brazilians saw tourism in Great Britain as something extremely expensive because of currency matters. Now that has changed and more Brazilians want to visit England, especially London."
Great Britain has much to offer its visitors from the cultural diversity of its cities to the rural splendor of the countryside. Whatever the location, its unique civilization and heritage ensures that there is always a reason to come back for more.