By Laura Siqueira, Contributing Reporter
RIO DE JANEIRO, BRAZIL – The legend of Brazil's beautiful people creates a bit of a love and hate relationship for Cariocas, but on the streets of Rio there are plenty of beauty salons and hairdressers available to help one look their best. Especially in the affluent Zona Sul (South Zone) area, leading style-makers offer world-class service to cater to international tastes and fashions.
One of the most sought after is Crystal Hair, where it's almost impossible not to bump at any celebrities any day of the week. With three branches in town – Leblon, Ipanema and Barra da Tijuca – sophistication and luxury are the best words to define all of them.
"We've created a place for the customer to identify with. Each luxurious detail has been planned to combine comfort and quality services," says Marcos Falcão, one of the owners of Crystal Hair.
Yet, for sure, luxury has its price and it is definitely not cheap. A haircut, for instance, costs at least R$330. To have it done by Tiago Parente at the Leblon salon, one of the most famous hairdressers in Brazil, it is necessary to pay even more.
Foreign clients also visit the beauty salon and they usually ask for manicure and pedicure, which costs R$80, and hair treatments. A glass of champagne, a healthy snack, valet service and WiFi connection are just some bonuses for the VIP clients to have a good time while treating their hair.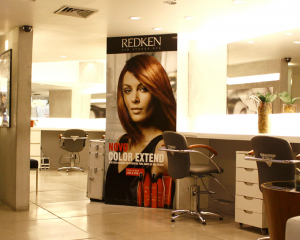 On the first floor of Shopping Leblon is Ophicina do Cabelo, another of the best hair salons in Rio. The sober and elegant atmosphere helps clients to relax and choose at least one from the long list of services.
Among the latest ones are the sustainable hair highlights and the American stretching, a discreet and natural way to give some volume and lengthen to the hair.
"In 30 minutes the client can come to Ophicina and feel brand new. For that to happen, we think about everything, the staff, decoration, ambiance sound and, of course, the services, always well done to the satisfaction of the client. We don't want quantity, we want, above all, quality in service to keep the loyal audience", says Marcella Clark, owner of the beauty salon.
In Barra da Tijuca, the latest luxury option is C. Kamura, by the famous beauty stylish Celso Kamura, who already owns two branches in São Paulo and Campinas and is responsible for Brazilian's president Dilma Rousseff haircut. It was opened in November 2013 inside the most luxurious mall in Rio, Village Mall, and offers all kinds of hair and nail treatments, as well as waxing, massages and special beauty days for brides.
A haircut done by Kamura costs R$400 and when he is in Rio, he always has a busy schedule. Nothing an advance booking can't solve for those who want to the best at this ultra high end salon.
For the men, there is the RED Salon Homem, the first of several locations was opened in Ipanema by a British expatriate Richard Pollard. Their decor consists of dark wood and leather furniture with mini flat-screen TVs installed at every work station, as well as an iPad for use at each chair.