By Ben Tavener, Senior Contributing Reporter
RIO DE JANEIRO, BRAZIL – A Brazilian federal judge has thrown out a legal bid by telecom giant TIM to appeal against a decision by Agência Nacional de Telecomunicações (National Telecommunications Agency, ANATEL), the industry regulator, to suspend the company's "Infinity Day" promotion.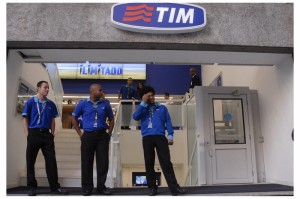 Having considered the evidence provided by TIM, the judge decided there were insufficient grounds to annul the suspension by ANATEL, which disagrees with the operator over its ability to fulfill the promotion.
The operator said the new promotion, which ANATEL said it had been surprised by, would not cause instability to its network, and had already been launched on November 11th in some regions, including São Paulo, Goiás, Amazonas and Mato Grosso, but was subsequently suspended at midnight on Monday.
The judge said of the operator's performance: "It is not ANATEL that undermines TIM's image […] but its own actions. Consumers know how to judge [good performance]," before signing off with a line in Latin by Cicero: "Quosque tandem, Catilina, abutere patientia nostra" ("How long, oh Catiline, will you abuse our patience?").
The "Infinity Day" offer entitled users to call other TIM numbers, for as long as they want, for R$0.50 per call; an extra fifty centavos would allow the use to make an unlimited number of calls, of any length, for the rest of the day.
However a similar "Infinity" promotion already used by million of TIM customers throughout Brazil – which allows calls of any length for R$0.25 each, regardless of DDD (regional dialing code) – had already been criticized as users were being cut off and had to pay again to reconnect.
ANATEL has received thousands of complaints about the poor service provided by TIM and its rivals – with cut connections and lack of cellular coverage among the most common given by disgruntled customers. This led to TIM, and competing operators Claro and Oi, being temporarily banned from selling new SIM cards earlier this year.
Read more (in Portuguese).
* The Rio Times Daily Updates feature is offered to help keep you up-to-date with important news as it happens.